5 Best Water Dispenser Brands in Nigeria. Products, Features, and Prices.
Air conditioner, Air conditioner maintenance, blenders, clean air, Cooker with Inbuilt Oven, Freezer, Gas cooker, Generator maintainence, Generators, Haier Thermocool, healthy living, Hisense, home theaters, Inverter, inverter battery, LG, Lutian, MAXI, MAXI TVS, microwave oven, Nexus, okayama, okayama generators, OLED, OLED TVs, Oraimo, Oraimo Audio accessories, Oraimo Freepods and Air bud, Panasonic, polystar, QLED, QLED TVs, QUHD TV, Refrigerator, ROKU TV, sandwich maker toaster, Skyrun, skyrun freezers, Smart TVs, soccer power, solar, Sound system, Standing Cookers, Table top cooker, TCL, TCL TVS, Television, washers, water dispenser

13 Jan, 2021
Water dispensers are becoming a vital appliance in our homes today. In the recent past, they were only found in offices and public places. Today, water dispensers are offering a healthy alternative to tap water. A consideration embraced by homeowners who thrive on having healthy families in the long run.
A water dispenser combines the qualities of your refrigerator and electric kettle into one device. All you need do is plug the unit in and you can get cold and hot water within a few minutes.
Water dispensers are quite unavoidable these days because it is a kind of dispenser that provides fresh, healthy drinking water and you can have instant access to cold or hot drinking water depending on what type of dispenser you purchase.
Water dispensers that dispense hot water are usually more economical based on your individual needs. They only boil what you need, and you don't boil the existing water again, which should save some energy. Most are faster at boiling than kettles too. Another thing about the water dispenser is that you get to improve the taste and quality of the water you will be drinking.
A water dispenser does not require a pipe to utilize, it does not require any plumbing, everything is prepared for your easy use. Furthermore, the compact size of the dispenser makes it easy for you to store it anywhere in the kitchen or any other suitable place.
The need for drinking water from a dispenser has become very common among people these days in their offices and more recently, their homes. Clean and hygienic water plays a significant role in human health. It's recommended for a human to take eight glasses of water per day, this keeps the body healthy and refreshed.
In most cases, tap water is exposed to dirt and bacteria, which contributes to 90% of the illness today. Most infections affecting children and adults are brought about by the clean but contaminated tap water. And we know that the kind of water one drinks determines how healthy they are.
To curb these problems, many homeowners opt to introduce water dispensers for their family's well-being. Water dispenser offers safe, clean, and purified drinking water, with a preference of either cold, moderate, or hot tab options. The appliance keeps your family hydrated and active all day long.
These water dispensers are so easy to use such that anyone, even children can provide themselves with the cool drinking water that they want. It is by far one of the most convenient ways to access clean, safe, and delicious tasting water. Simply having one in your home will make you drink more water and that alone is worth it.
Water dispensers play a vital role in workplaces, restaurants, hospitals, and public places for storing clean drinking water. There are different types of water dispensers in the Nigerian market, each serving a great purpose. Homeowners can shop for a variety of water dispensers to start a healthy living journey far from infections and bacteria.
To make the selection process easier, I would be mentioning some of the best Water Dispenser brands you can choose from in Nigeria.
Haier Thermocool Water Dispensers.
Haier Thermocool is one of the foremost manufacturers of water dispensers in the country. Their dispensers are premium quality and are known for their durability. They typically feature hot, warm, and cold water tap, refrigerator compartment, and storage cabinet. The dispenser is quite useful whether it is in the home, office, or any other related space.
Haier Thermocool water dispensers often feature a two-door design. You will find the taps inside the top door as well as a collector to prevent spillage. The second door packs a freezer unit for any other food item the user might want to keep there.
Some of their amazing water dispensers are listed below, features and prices too.
Haier Thermocool Water Dispenser (REF C/H 808BD.)
This one cost N71,645 on Zit.ng. You might be thinking that it's a lot of money, but with all the features it has to offer you would see that it is well worth it. This water dispenser features hot water and cold water faucet that dispenses piping hot and chilled cold water at the touch of a finger.
It also comes with an inbuilt refrigerator compartment that uses an Eco-friendly Refrigerant, this is not only safer for the environment but is also energy efficient. The refrigerant doesn't harm the environment and also has fewer energy requirements, lowers power consumption, and saves you more money.
This Haier Thermocool water dispenser also features an Abs Plastic Material which has a strong resistance to corrosive chemicals and/or physical impacts. With the few things I have listed above, you can see how the cost is well worth it. This water dispenser is very convenient, affordable, and very easy to use.
The Haier Thermocool Water Dispenser HT-CH85C, costs less than N60,000 and it is also full of amazing features. It not only comes with a refrigerator compartment but also a Storage cabinet. This cabinet is perfect for storing cups, tea, sugar, and napkins. This cabinet does not cool anything kept inside and can be used to keep dry items like a typical storage cabinet.
This Haier Thermocool water dispenser comes in a Top Loading Model that is hassle-free to set up and promises to deliver the highest performance. It is lightweight, which makes it easy to carry around, and features high-strength plastic construction that ensures its longevity.
It also comes equipped with a Signal Light that allows you to know when the water dispenser is ON and functioning. There's a lot more to this one.
See here for more information.
The Eurosonic Water Dispenser is efficient, durable, and easy to use. They often come in a blend of bright colors that gives them a beautiful appearance. 
Eurosonic's water dispenser usually offer not just two but three water settings. Their cool setting is slightly colder than room temperature. Hot water comes out steaming, around 180 degrees Fahrenheit. The cold water is icy; you won't need ice cubes.
In other words, their dispensers have a very high heating capacity and an even better cooling capacity. The hot water setting also has a child-lock to prevent burns and accidents. Eurosonic water dispensers are also very energy efficient and so would save you money, month over month in cheaper electricity bills.
Here are some of our best options for you:
The Eurosonic Water Dispenser with Three Nozzles & Fridge Red,
this one costs a little over N53,000 on Zit.ng. It comes equipped with three nozzles for hot, warm, and lukewarm water serving the purpose of your choice as well as a refrigerator for preserving food.
It features a high-quality hot water tank that can use any of the 3-gallon and 5-gallon bottles. The manufactures also claim that the unit bundles an advanced anti-bacterial technology to fight pathogens in the water.
This water dispenser is designed with world-class safety features that make it safe to use in your home, office, hotels, schools, and other public places too. It has a hot water child safety lock that keeps your little ones from being burned accidentally.
For more information on our range of Eurosonic Water dispensers, See here.
The Nexus Dispenser is available in a variety of color options. The water dispenser can supply the user with both hot and cold water at the same time. Also, the dispenser is fitted with high-quality, steel water tanks which keep the water in the tank safer for longer time frames. It is also fitted with a freezer compartment of its own.
Nexus Water Dispensers are environment friendly, they help protect the environment by offering you a quality alternative to purchasing plastic bottled water. They also give you access to safe, clean water. All that is required is the lifting or pushing down of a lever.
Each of their water dispensers is engineered for convenience in the sense that they are easy to clean and effortless to maintain.
The NEXUS WATER DISPENSER + FRIDGE (RED) | NX-016R1 costs N56,000 on Zit.ng. This water dispenser is available in a variety of color options to match the décor of whatever space you have intended it for. It is one water dispenser that blows hot and cold.
The dispenser is fitted with high-quality, steel water tanks. Due to the low susceptibility of steel to holding bacteria, water in the tank is kept safer for longer time frames. Fitted with a freezer compartment of its own that provides extra space for chilling small food items like Pepsi bottles or sugar cane juice.
The unit is equally ideal for a serene environment owing to the low noise technology embraced in the design.
See here to check for other Nexus Water dispenser options.
 
MAXI products are considered safe to use anywhere, their products are sure to serve its user with a defined purpose and they always come at an affordable price. With the Maxi water dispenser, you would be killing two birds with one stone. Styling your office or home with one of the most beautiful water dispensers there are, and fulfilling more than the base need for getting a water dispenser in the first place.
Maxi Water dispensers come with two faucets and some even come with three faucets. It also features a double safety device for the prevention of system overheating. For more comfort, there is also a high-efficiency compressor cooling system worked into place. One of the things we loved most was the child safety lock on the hot water faucet. That further makes it suitable for home use with less worry about hot water accidents.
Some of their amazing water dispensers are listed below, features and prices too.
The MAXI WD-1639S BOTTOM LOADING DESIGN WATER DISPENSER. 
It cost almost N68,000 on Zit.ng, packed full of amazing features to blow your mind. This Maxi's bottom-loading water dispenser is a sleek, modern-looking appliance. It avoids looking like a cubicle water cooler.
By hiding the water jug in the bottom part of the dispenser Maxi's dispenser will fit in to break room décor. It's also an attractive addition to any kitchen. This bottom-loading design also makes it easy to refill the water dispenser.
It features a High Power Stainless Steel hot water tank that gives the water a refreshing taste. It helps to improve water taste and avoid corrosion, preventing the water from getting a weird taste. You are certain to get great quality and maximum hygiene from this water dispenser.
MAXI WD1836S 3-FAUCET WATER DISPENSER cost N59,300 on Zit.ng.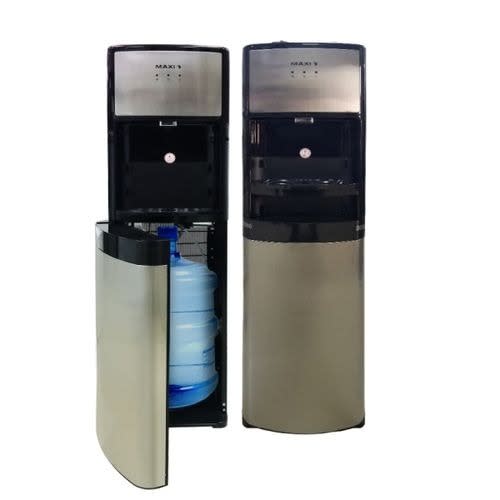 With the Maxi WD1836S 3 Faucet Water Dispenser,you not only drink safely, but you also drink in style. With its 3 Faucets, life is made so easy for you. You don't have to wait till the cold water runs out before you can get hot water.
This Water Dispenser combines a technology that not only freezes and heats water to your specification it also sterilizes. It is the perfect appliance for your home. This water dispenser also features a stainless steel hot water tank that is very durable and also germ-resistant, this gives you the certainty of drinking only safe and germ-free water from this dispenser for a very long time.
See here for more information on Maxi Water dispensers.
Polystar Electronics are the makers of the Polystar dispensers. The dispensers from this brand are aesthetically appealing while not neglecting functionality. They come in different colors from pink, white, blue to red. Polystar water dispensers are known for their lasting durability and reliability over time.
The typical Polystar dispenser supplies both hot and cold water and the unit is also involved in the sterilization of the water dispensed. The dispenser is rated as a low energy consuming unit as a result it can remain plugged in for long periods and not drive up power consumption bills.
The Polystar Water Dispenser Pv R6Jx 5B is one amazing water dispenser out there. 
And you can get this dispenser for just N46,800 on Zit.ng. This water dispenser is very essential as you get sterilized hot and cold water every day for drinking, tea, and coffee.
Polystar water dispenser comes with a door design that shields the tap buttons and water collectors that prevent water from spilling. And another door leads to the refrigerator compartment below. On top of that, the water dispenser promises durability and reliability over time.
Conclusion.
Whether it is in the home, office, or any other related space, drinking water is always needed. What is sometimes more important than just water is the condition the water is in. Getting a high-quality water dispenser would ensure that you get to drink high-quality water.
Check out Zit Electronic Online Store for the best Water dispensers in Nigeria.
Order now and get one for an amazing price.