Affordable 6 Burners Freestanding Gas and Electric Cookers in Nigeria.
Air conditioner, Air conditioner maintenance, blenders, clean air, Cooker with Inbuilt Oven, Freezer, Gas cooker, Generator maintainence, Generators, Haier Thermocool, healthy living, Hisense, home theaters, Inverter, inverter battery, LG, Lutian, MAXI, MAXI TVS, microwave oven, Nexus, okayama, okayama generators, OLED, OLED TVs, Oraimo, Oraimo Audio accessories, Oraimo Freepods and Air bud, Panasonic, polystar, QLED, QLED TVs, QUHD TV, Refrigerator, ROKU TV, sandwich maker toaster, Skyrun, skyrun freezers, Smart TVs, soccer power, solar, Sound system, Standing Cookers, Table top cooker, TCL, TCL TVS, Television, washers, water dispenser

11 Jan, 2021
Gas cookers are arguably the most essential appliances in a modern kitchen. I mean, you need food to sustain you and you need a cooker to make that food. Together with the refrigerator, gas cookers are the most important appliance to have in your home. The centerpiece of most kitchens is a freestanding cooker.
As most of us spend so much time cooking, it's important to get the perfect cooker that would suit your home and lifestyle. You would have heard this a lot, but the fact remains that cooking doesn't have to be stressful; in fact, it should be among the most fun activities in the house.
Gas cookers don't only make cooking easier, faster, and better; they have a way of making the kitchen look more tidy, organized, and neat. Having a bigger gas cooker with more burners gives you more benefits than before. One thing we can all agree on is that the advantages that come with gas cookers are truly amazing.
And when it comes to cooking and baking you can be sure that you are making the right choice with a freestanding gas cooker. Freestanding gas cookers come with a lot of option that ensures maximum convenience and let you cook like a professional chef. You enjoy increased versatility in the kitchen now as you not only cook or fry your food, you also get to bake or grill your food too.
This freestanding cooker combines an oven and a stove-top into one convenient appliance. It is easier to multitask, as you can keep an eye on your dish in the oven while you use the stove-top. Another beautiful thing about the freestanding cooker is that it helps you to manage your space properly and efficiently, it gives the kitchen a more modern setting with some classy touch.
In this post, we would be mentioning the current prices of various 6 Burners Freestanding Gas and Electric Cookers in Nigeria today. Sorted by the brand you would get to see some of the best 6 burner gas and electric Freestanding cookers and what makes them so unique.
Days, when you have to spend a fortune to acquire a gas cooker, are long gone. These cookers are now available in various qualities and sizes and are much more affordable.
Here's a list of the current prices of various 6 Burner freestanding Gas and Electric cooker in Nigeria.
* Polystar Gas Cookers 80 by 60: N110, 000 – N130, 000.
* Polystar Gas Cookers 90 by 60: N160, 000 – N180, 000.
* Polystar Gas Cookers (5 gas burners) with the oven: N120, 000 – N130, 000.
* Polystar Gas Cookers with oven PVFS-90EGS: N170, 000 – N190, 000.
* Polystar Pvwd 960G5G 5 Gas Burner with Auto Ignition: N189,800.
* Polystar Gas Cookers (6 gas burners) with the oven: N170, 000 – N190, 000.
* Polystar Pvnd 90G2Gp 2 Hot Plate + 4 Gas, With Touch Screen Timer: N197,000.
* Scanfrost Gas Cookers with ovenSFC9502SS (6 gas burners): N225, 000 – N250, 000.
* Scanfrost Gas Cooker (4 Gas 2 Electric) SFC9423SS: N288,000.
*Maxi 60 by 90 gas cooker (5 gas burners) with the oven: N130, 000 – N150, 000.
* Maxi Style 60*90 (4+2) Wood Gas Cooker, 4 Gas + 2 Electric: N173,000.
* Maxi Style 60*90 (4+2) Inox. 4 Gas + 2 Electrical Gas Cooker: N166,500.
* Haier Thermocool 5Burner Gas Cooker: N248,600.
* Nexus Standing Gas Cooker With 4 Gas Burners and 2 Electric GCCR-NX-8000S(4+2): N185,000.
* NEXUS STANDING GAS COOKER With 4 Gas Burners and 2 Electric | GCCR-NX-8001S(4+2): N200,000.
* Ignis standing gas cooker with oven T967: N350, 000 – N380, 000.
* Ignis standing gas cooker with oven T851: N200, 000 – N310, 000.
* Ignis standing gas cooker with oven FST563: N100, 000 – N130, 000.
* Ignis standing gas cooker with oven TP9950: N330, 000 – N415, 000.
* Ignis standing gas cooker with oven T967: N230, 000 – N270, 000.
* LG Stove 762S 6 Gas Burner, Led Display Three Layer Oven Glass: N543,120.
* LG 5 Electric Element Gas Cooker: N479,160.
The range cookers usually come in sizes that are usually wider than standard cookers, typically between 90cm by 110cm in width. They are available for all fuel types, and their size and capabilities make them a great choice for larger families. A range cooker is especially ideal for people who love to entertain and love to cook.
They feature an array of burners for a more efficient way of cooking. It will make your cooking faster, cleaner, and more convenient. They often come fully equipped with ovens and grills which is ideal for cooking lots of different dishes at once, or keeping certain dishes warm while others cook. These range cookers are highly efficient and very easy to clean.
Thanks to their numerous functions, you can bake, boil, and roast at the same time, giving you extra freedom in the kitchen. Either you are a chef getting training, a master chef or you just love to create beautiful recipes, buying a range cooker can serve you a ton of benefits. 
Some of them include:
Fast and Timely Cooking. Range cookers, especially those that are powered by cooking gas make up for a great cooking companion due to the quick temperature adjustments. This helps in preparing the dishes in the shortest time possible. Electric hobs too have their benefits, they are quick to heat the contents of a pan and are usually better at simmering at low temperatures too.
Continuous Working in Power Interruption. Gas range cookers would function optimally with or without power supply, unlike the electric range cookers. The best thing here is that most of the range cookers you see in Nigeria make use of dual fuel sources i.e. they use both gas and electricity to power the cooker. And so you can have the best of both worlds.
Consistent heating/ Even heat distribution. In gas cooktops, the flame is located in the center of the pot. And so it gives consistent heating while distributes it evenly throughout the pan. The consistent and even heating lessens the risk of sweltering marks on the utensils, pots, and food contained inside. You get to enjoy such benefits also in perfectly flat electric cook-tops. They allow for heat to be distributed evenly across the cookware.
Easy to clean stainless steel cook-tops. The surfaces of the electric hob are usually flat and smooth; this allows for easy cleaning. Most gas cookers are made of high-quality stainless steel which allows them to promise fuss-free cleanups. The Stainless-steel cooktop brings the look of sleek sophistication to your kitchen. They are also very easy to maintain and clean, you only need water and a cloth to wipe them clean. As they are stain and heat discoloration resistant, they are sure to provide you with a reliable cooktop for years to come.
Multiple Burners. If you cook a lot and love to cook various dishes for a single meal, then you might find a use for several burners. If you also want to have burners with different cooking capacities, these cooktops will be a good choice for you. The burners offer you the flexibility you need to whip up various kinds of dishes.
Cast Iron Pot/ Pan stand.  The pot's stands are made of iron, meaning that they are very durable and can easily withstand the bustle of the kitchen. Most Cast iron stands are stylishly built to not only support your pots and pans but also add a professional touch to your kitchen. They guarantee maximum stability for your pans, with generous spacing between burners.
There's so much more but I would stop here. 
Check out these amazing 6 Burners Freestanding Gas and Electric Cookers that you can get for the best price on www.zit.ng.
The prices of these gas cookers are dependent on several factors which include the brand, size, number of burners, and other basic varying features.
Haier Thermocool 5Burner Gas Cooker.

248,600 Naira.
5 optimally sized Gas Burners.
Wide finger Pot/Pan support.
High-grade stainless steel Gas top and panel.
Gas Oven with griller burner.
Tempered double glass oven door.
Chicken rotisserie.
Oven lamp.
Oven tray.
Tempered glass top lid.
LG Stove 762S 6 Gas Burner, Led Display Three Layer Oven Glass.

543,120 Naira.
6 Gas burners.
Classic Silver Stainless steel finish.
153L Double Oven Capacity (Top Electric & Bottom Gas).
LED Display.
Dual Heating.
Three Layer Oven Glass.
146,000 Naira.
Dimensions: 60cm x 90cm.
5 Optimal Gas Burners
Beautiful bright Inox Color.
Tempered Glass Top lid.
High-grade Stainless Steel finish.
Automatic Ignition Button.
Oven Lamp.
Mechanical Timer.
NEXUS STANDING GAS COOKER With 4 Gas Burners and 2 Electric | GCCR-NX-8001S(4+2).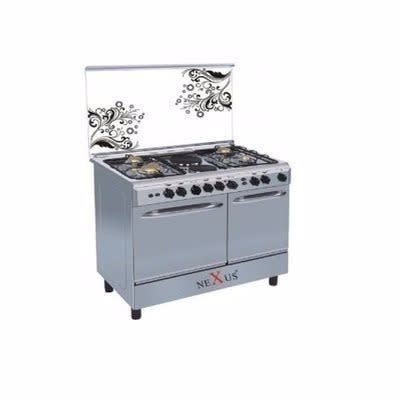 200,000 Naira.
4 High-efficiency Gas burners.
2 Electric hot plate.
Euro Type Pool Burners.
Double capacity Oven with Grill and Turn-spit.
Electrical & Gas Oven.
Tempered Glass Lid.
Glazed Oven window.
Electric Grill.
Dish Warmer at the Bottom.
High quality steel body with Chrome finish.
Maxi Style 60*90 (4+2) Wood Gas Cooker, 4 Gas + 2 Electric.

173,000 Naira.
High-efficiency Burners; 4 Gas and 2 Electric burners.
Euro Pool Gas System.
Auto Ignition for Hobs & Oven.
Rugged Wood finishing.
Double glazed Oven Glass.
Oven Lamp.
Rugged Cast Iron Top Grid and Burner cover.
Mechanical Timer.
Double Italian Designed Burner + Sparker.
Large Capacity Oven.
Scanfrost Gas Cookers with oven SFC9502SS (6 gas burners).
Dimensions: 90cm ×60cm.
4 Gas Burners + 2 Electric Hotplates.
Auto Ignition for Gas Oven.
High-grade Stainless steel cooktop.
Stainless Steel Finish.
Double Glass Insulated Oven door.
Oven Lamp.
With 1 Year PAN Nigeria Warranty.
Polystar Pvnd 90G2Gp 2 Hot Plate + 4 Gas, With Touch Screen Timer.

197,000 Naira.
2 Hot plates, 4 Gas burners.
Auto Ignition knobs.
Double glazed oven door.
Oven lamp.
Large Oven capacity 130ltrs.
Removable tempered glass cover.
Gas oven and gas grill.
Automatic Oven timer.
Rotisserie.
Cast Iron Grates.
Factors to consider before buying any Gas cooker.
Consider the brand: Brand is key, it should be among the first factors you consider when buying any product at all. You should go for well-known brands that have been tested and trusted by you or anyone around you. This way you are sure of getting good quality.
Consider the number of burners: The number of burners varies. You have to consider your cooking schedules, how often you do cook?
How many foods do you cook at once?
Do you like to cook large amounts of food but would appreciate it if you can be done faster? Then you ought to go for a gas cooker that has up to 5/6 burners.
Consider the size of the gas cooker: The size of your kitchen should decide the size of the cooker you are buying.
Consider the capacity of the oven: how often do you bake? Do you bake or grill large dishes that require a lot of space? This should guide you when you are getting a gas cooker.
The above factors would go a long way in helping you to streamline your options and eventually pick the right one for you. They help to ensure that you truly get your money's worth and enjoy great value from your purchase.
Conclusion.
The demand for gas cookers with amazing technologies and features is on the rise in Nigeria today. Nowadays, people opt for larger gas and electric cookers as they have much more benefits to offer. The fact that the appliance makes cooking faster, better, and more convenient only make them more popular among the people. They fit perfectly into the modern kitchen, adding elegance and style to any kitchen that has them.
At Zit Electronic Online Store, you get to choose from an amazing collection of cooking appliances that are designed to make life stress free for the woman in the kitchen and for the man as well that loves to cook.
Go to Zit Electronic Online Store now to get the best gas and electric cooker at the best price in Nigeria.