LG Air conditioners features and prices in Nigeria.
Air conditioner, Air conditioner maintenance, blenders, clean air, Cooker with Inbuilt Oven, Freezer, Gas cooker, Generator maintainence, Generators, Haier Thermocool, healthy living, Hisense, home theaters, Inverter, inverter battery, LG, Lutian, MAXI, MAXI TVS, microwave oven, Nexus, okayama, okayama generators, OLED, OLED TVs, Oraimo, Oraimo Audio accessories, Oraimo Freepods and Air bud, Panasonic, polystar, QLED, QLED TVs, QUHD TV, Refrigerator, ROKU TV, sandwich maker toaster, Skyrun, skyrun freezers, Smart TVs, soccer power, solar, Sound system, Standing Cookers, Table top cooker, TCL, TCL TVS, Television, washers, water dispenser

13 Jan, 2021
It shouldn't be a surprise to you when I say that LG isn't just an ordinary brand, it is a "Statement" brand. They are one of the highly regarded air conditioner brands in the world, they are not just known for their air conditioners but also the electronics, home entertainment, and high-quality home appliances products. You can simply say that LG is that one brand that has stamped its name in our hearts.
As their slogan states, "Life is Good", and really, life is good with LG. Among the numerous brands we have seen, LG stands out and is arguably the most energy-efficient Air Conditioners. They are easy to maintain and are one of the most easily accessible brands in the world, ranking high on the list of the best HVAC companies.
LG air conditioning systems are eco-friendly with advanced features and thoughtful designs that will help you breathe easier. These air conditioners give you the power to cool one room, or several, with just the touch of a button. One amazing fact about LG Air conditioners is that they are very easy to install.
This is one factor that makes the LG brand one of the best Air conditioners in Nigeria.
LG air conditioners are designed for easier and more efficient installation, regardless of the surroundings and the number of persons involved in the installation process. By reducing the manpower and time required for installation, it is now possible to install more air conditioners at more homes in a shorter period.
All you need do is to get your product and follow the step-by-step installation procedures in the manual. Another amazing thing about LG Air conditioners is that they have been designed to function in any given circumstances. With an air conditioning system from LG, you can efficiently heat or cool one room or one area of your home.
Designed for the way you live, the LG air conditioners come with so many mind-blowing innovative features that let you create a space that's cool, comfortable, and stylish, some of those features include:
LG Air conditioner features.
ARTCOOL changeable panels.
This feature was built such that you can insert art inside and change it whenever you like. It makes it easy to customize your air conditioner to suit your home's décor. So air conditioner isn't just an old boring cooling box sitting in your living room, it is much more than that. This feature allows you to cool your space stylishly.
LG ArtCool changeable panels are designed to be harmonized with the interior of your home with the minimal and basic style. The LG ArtCool design sometimes features a mirror glass on the front of the product that reflects the surrounding environment to emphasize the interior and integrity. It also helps to deliver timeless beauty through the solidity of the glass material.
LG ArtCool changeable panels include renditions of classic art pieces by famous painters such as Van Gogh and Sisley. These paintings are featured on the air conditioner's front panel, transforming household white goods such as air conditioners into stylish objects of art.
The ultra-sleek photo-changeable frame adds an extra touch of elegance to its already stunning appearance, making it ideal for premium style homes. The eye-catching aesthetic design of the air conditioner is sure to attract attention just as its convenient features are guaranteed to enhance usability.
LG Healthy Air features.
The discomfort and irritation that can come from allergies have always been difficult for those who suffer from such afflictions. And so LG brought about the Allergy reduction filter feature that helps to provide a more pleasant and comfortable environment for the user.
LG Allergy Reduction filters trap those microscopic allergy-causing agents. It can capture dust mites, pet dander, hair, lint pollen, and even baking flour. There's also an Auto Cleaning function that prevents the forming of bacteria and mold on the heat exchanger and thus provides a more pleasant and comfortable environment for the user.
There's also the 3M Micro Protection Filter that uses a powerful electrostatic charge to clean the toxic and harmful dust in the air, which can cause respiratory ailments and breathing problems. The dust protection filter helps to keep your home free from dust and allergens, thus, saving your children from allergies and respiratory problems. The filter ensures clean air by catching harmful microbes (up to 3 microns) present indoors.
There's also the Dehumidification feature that has greatly improved the living standard of people. This feature helps in reducing and maintaining the humidity level in the air, this is very important for health, as well as comfort reasons. LG air conditioners have built-in dehumidifying functionality to remove any nasty odor and limit the growth of mildew by extraction of water from the air.
LG Smart Diagnosis technology.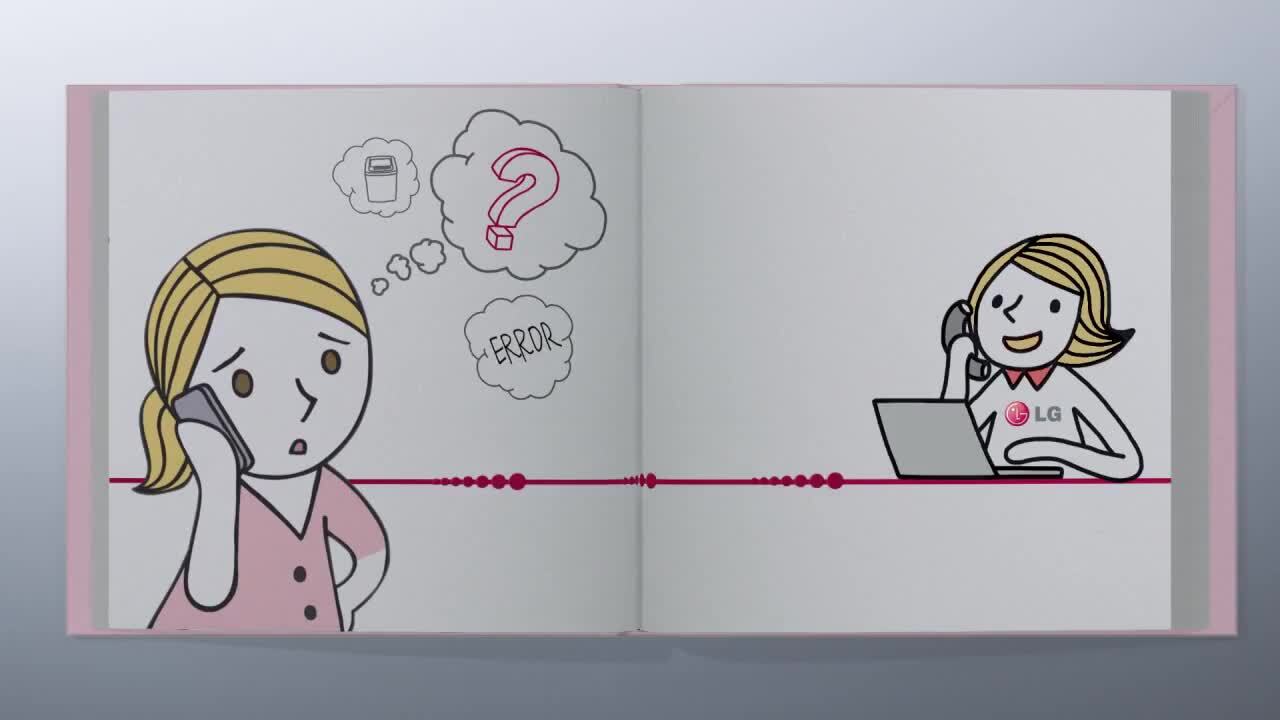 The Smart diagnosis technology helps to diagnose and solve some problems that maybe be encountered in the air conditioner, quickly band correctly. It makes it possible for users to conveniently check setup, installation, troubleshooting, and other information directly from a smartphone.
It not only helps to diagnose the problem; it also provides troubleshooting steps to get the problem fixed. LG Smart Diagnosis feature helps to provide you with the right usage and useful information based on the product usage pattern. It contains lots of useful information to help you properly use and maintain your LG air conditioner.
When there is a problem with your air conditioner, it will guide you through the solution so that you can easily solve it according to the diagnosis result. Using this advanced technology will result in you getting an instant answer, which also means there is no need to wait at the end of the phone for a response. This allows you to save both time and money.
LG smart ThinQ feature.
With the LG Smart ThinQ app, you can easily start or stop the air conditioner with your phone. This feature gives you more ways to manage and monitor your air conditioner. Whether on the go or at home the LG ThinQ app gives you the freedom to view the current temperature settings of each air conditioning unit and easily change temperature, fan speed, and airflow direction via your smartphone.
It allows you to control the indoor air conditioning unit(s) with simple voice commands using Amazon Alexa or Google Assistant. You get to control key features and receive notifications from virtually anywhere, thanks to sleek, smart home solutions from LG. You can crank up the Air conditioner before stepping foot in the door, so you are certain to meet a perfectly cooled environment.
The LG ThinQ app is available for Android or iOS and it pairs flawlessly with LG smart air conditioners, making it possible to control them all from your smartphone.
Dual inverter Compressor.
The LG's Dual Inverter Compressor solves improper, ineffective, and noisy problems, resulting in an air conditioner that cools faster, lasts longer, and runs quieter. The compressor features a wider rotational frequency that saves more energy and has a faster cooling range.
Energy-efficient.
It is said to consume up to 70% less electricity while providing up to 40% faster cooling when compared to one of its own non-inverter regular ACs. An Inverter compressor constantly adjusts the compressor's speed to maintain desired temperature levels. However, the LG Dual Inverter Compressor features a power-saving operation range frequency that saves more energy than any conventional compressor.
10-year Warranty.
The LG's Dual inverter compressor comes with a 10 Year Warranty that helps users enjoy the benefits of LG air conditioner for a longer period. During the use of the Air Conditioner with PHCN, an irregular supply of power or the low voltage does not affect the normal functioning of the AC with its inbuilt volt care function.
The Dual inverter compressor technology also enables the air conditioner to operate at a pleasantly low noise level, enabling users to relax or rest comfortably without the distracting hum of the air conditioner. The compressor eliminates unnecessary noise and allows for smooth operation. With sound levels as low as just 44 decibels, the LG dual inverter compressor boast of ultra-silent operation, we are talking library-level kind of quiet. 
Fast Cooling.
Unlike conventional air conditioners that completely turn off their compressors to regulate temperature, the compressor design mechanism of LG's dual inverter compressor allows the compressors to easily and continually adjust their speed and performance to the desired room temperature. And this is done accurately with a reduction in fluctuations and turn, improved energy efficiency.
Gen-Cool Mode.
This feature allows you to use the Air conditioner with small capacity generators without necessarily worrying about the start-up electric power for optimum performance in Nigeria anymore. With this unique feature, LG has demonstrated clearly that it possesses the ability to meet the needs of consumers. The air conditioner can work seamlessly with a 0.7 KVA Generator, which is a popular source of power among the Nigerian populace.
Here are LG Air Conditioner Prices.
LG Window unit air conditioner.
LG Window Unit Air conditioner 1 HP, 1.5 HP: N75,000 - N160,000.
LG Window Unit Air conditioner 2 HP: N100,000 - N200,000
* LG Floor standing air conditioning unit.
LG Floor Standing Air Conditioner 2 HP, 2.5HP, 3 HP, 5 HP, 10 HP: N400, 000 – N2,800, 000.
* LG Split Unit Air conditioner.
LG GenCool Inverter Split Unit Air Conditioner 1 HP, 1.5 HP, 2 HP, 2.5 HP: N135, 000 – N350, 000.
LG JET Cool Split Unit Air Conditioner 1 HP: N85, 000 – N120, 000.
LG JET Cool Split Unit Air Conditioner 2 HP: N160, 000 – N180, 000.
LG Art Cool Split Unit Air Conditioner 1.5 HP,2 HP, 3 HP Stylist: N300, 000 – N560, 000.
LG Art Air Split Unit Air Conditioner Mirror 2 HP: N290, 000 – N350, 000.
LG Art Air Split Unit Air Conditioner Mirror 1.5 HP: N250, 000 – N290, 000.
* LG Ceiling Cassette Air conditioning unit.
LG Ceiling Cassette Air Conditioner 1.5 HP: N350, 000 – N415, 000.
LG Ceiling Cassette Air Conditioner 2 HP: N360, 000 – N450, 000.
LG Ceiling Cassette Air Conditioner 2.5 HP: N400, 000 – N450, 000.
LG Ceiling Cassette Air Conditioner 3 HP: N550, 000 – N630, 000.
LG Ceiling Cassette Air Conditioner 4 HP: N600, 000 – N650, 000.
LG Ceiling Cassette Air Conditioner 5 HP: N800, 000 – N900, 000.
LG Ceiling Cassette Air Conditioner 5.5 HP: N1, 000, 000 – N1, 200, 000.
HOW TO TAKE CARE OF YOUR LG AIR CONDITIONER.
This is a very necessary factor that would go a long way in ensuring that you enjoy your air conditioner efficiently for a very long time. It is so simple and wouldn't cost you so much too. Below, I would mention a few things that you can do to keep your air conditioner up to par at all times.
Change the Air filter monthly (at least). This is the easiest and the most effective way to care for your air conditioner. The air filter in your air conditioning system helps in preventing dangerous substances or particles such as dirt and dust from entering the air it produces.  However, air filters can only function perfectly whenever they clean, this is why you should clean it periodically. A dirty air filter mounts huge pressure on your air conditioner and it can damage your air conditioner if not corrected as soon as possible.
Endeavor to Keep the Coils Clean at All Time. Air conditioning coils play an important role in cooling the temperature of your room. This is because they help the refrigerant in your air conditioning system absorb heat and cool your room in return. The more the coils become dirty, the less effective your air conditioner becomes as it won't be able to absorb much heat produced by your room.
Check the Fins Regularly. Every air conditioner contains numerous fins, which is as a result of the possession of an evaporator and condenser. You must regularly check these fins and make sure none of them got bent because it will reduce the effectiveness of your air conditioner. Fins are liable to bend at any time depending on the number of hours you use your air conditioner per day. So, you must frequently check them. You should call a professional air conditioning technician to help you correct any bent fin.
Unplugging the air conditioner when not in use. As with all appliances, to save energy, unplug the AC when not in use. It would save you energy especially on your bill. These are just some of the few things you can do regularly to ensure that you enjoy your air conditioner for a long time, and you enjoy it to the fullest.
Conclusion.
LG air conditioners offer you the best option to cool your space. Designed for efficiency, power, and style, this innovative range of air conditioners allows you to enjoy cool breezes while maintaining the look and feel of your home.
Looking to get one of these LG air conditioners?
Visit Zit Electronic Online Store and explore our innovative collection of LG air conditioners to keep your family comfortable even during the hottest and most humid months of the year.