Planning to Buy a Chest Freezer? Here Are 5 Options for You.
Air conditioner, Air conditioner maintenance, blenders, clean air, Cooker with Inbuilt Oven, Freezer, Gas cooker, Generator maintainence, Generators, Haier Thermocool, healthy living, Hisense, home theaters, Inverter, inverter battery, LG, Lutian, MAXI, MAXI TVS, microwave oven, Nexus, okayama, okayama generators, OLED, OLED TVs, Oraimo, Oraimo Audio accessories, Oraimo Freepods and Air bud, Panasonic, polystar, QLED, QLED TVs, QUHD TV, Refrigerator, ROKU TV, sandwich maker toaster, Skyrun, skyrun freezers, Smart TVs, soccer power, solar, Sound system, Standing Cookers, Table top cooker, TCL, TCL TVS, Television, washers, water dispenser

13 Jan, 2021
The freezer is a modern-day appliance that makes life a lot easier for us, as we now have the luxury of being able to bulk buy, cook ahead, batch bake, and preserve our excess crops (or bargains from the supermarket). With a chest freezer, you can have more storage capacity, compared to conventional refrigerators.
It's not surprising that they have become essential gadgets expected to be found alongside electronics like televisions. This is because of our desire to preserve food materials and to consume cold drinks. We rely on them during the week and on weekends. They ensure our meals are served fresh and our drinks, chilled.
Chest freezers have become important parts of our lives that you hardly find a modern home in Nigeria without it. The best chest freezer is the appliance for you today because it means that you can store even more of your favorite foods, frozen or batch cooking for a rainy day, so you can spend more quality time with the family throughout the holidays.
It can be frustrating to plan a party for a large group unless you have a deep freezer and can handle all the food you will be serving. It can be frustrating to bring in an enormous amount of seasonal fruits and vegetables to your house. This is less frustrating with the best chest freezer that can store stacks of fruit and vegetables to carry you through the year.
Having a deep freezer can make once-a-month shopping possible and very simple. It saves money because you can buy several pounds of whatever's on sale at the store and then use it in several meals at once while it is still fresh, pop them in the freezer, and eat them later. It's hard to quantify these savings, though, until we utilize it.
If you are worried about running costs, no need anymore. Chest freezers are designed in a way that they utilize less energy. They are very cost-efficient. The new technologies are focused on making things more energy efficient so that more work could be done without consuming extra energy.
And because they are generally out of sight in basements or garages, there's no need to splash out for that luxe stainless steel, goat-skin, or travertine finish. So even the purchasing cost for a chest freezer is very much affordable. Even higher-end models come in well below the cost of a decent fridge freezer combo.
Anyone who cooks dinner at the regular and has a family needs one. A chest freezer is really important to some people, especially businesses. The food stored in the chest freezers is safe to eat even after the longer duration even if there are frequent power cuts.
The chest freezers are specially designed to store these frozen food items. The refrigerator temperature is controlled during the power cut so that your food remains fresh. You need not worry about your food getting spoiled, unlike other regular refrigerators.
Most of us lookout for specific things when we want to purchase one, and rightly so, as some are very effective but very costly at the same time. For that reason, we will look at the features, best prices, and Key specs of Chest Freezers in Nigeria.
For the best freezer out there, at reasonable prices that will not hurt your pocket.
Here is our list of some of the best Chest Freezers to buy in Nigeria.
If what you are looking for is a fast freezing freezer, then this LG freezer is perfect for you. Its Blast freezing function offers you a "30% faster freezing speed" than the models without a fan. Cold-air circulation occurs by a fan blowing from the door ceiling so it can freeze stored food faster and easier.
This LG freezer features a multi airflow system that ensures even cooling throughout the freezer using the multi-flow air vents located all over the unit. This helps in keeping the food fresh & healthy. You get to enjoy peace of mind with this LG Chest Freezer as it maintains the temperature degree of -18℃ to -1℃ during power-cut.
This freezer retains that same temperature for five days. That's a pretty long time and this solves a lot of problems concerning power outages and the likes of it. Those who don't want to throw away their food items when there is a power outage for a very long time should get this one now.
The LG freezer offers fast and efficient cooling while reducing energy consumption. The refrigerator also comes with a 10-year warranty on a linear compressor. This compressor is manufactured by LG itself based on durability and high technology. LG also fully covers the voltage fluctuation.
This LG freezer guarantees voltage fluctuation range 135V ~ 290V. You no longer need to worry about abnormal stopping with this LG chest freezer. You can enjoy all these benefits and even more for just N271,560 on Zit.ng.
See here for more information.
Haier Thermocool Medium Chest Freezer HTF-319H SLV.
Haier Thermocool chest freezers are among the best when it comes to value for money in Nigeria. The Haier Thermocool HTF - 319H is no exception. This chest freezer is hard to beat when it comes to consumption of space as it can store an ample amount of food and other products in its 319L storage capacity.
Two baskets automatically accompany this product upon purchase. They can be used for storing fruits, vegetables, and dairy products. They allow you to properly organize your freezer space.
With its Super Freezing Function, you are sure of cooling large amounts of food in minutes. When the Super freezing function is activated, the freezer will provide a boost to the cooling process, dropping the temperature to nearly half of the usual temperature.
This Haier Thermocool Chest Freezer has a Bright Led Light Interior that removes the inconvenience of looking for food items in the dark. These LED lights are energy-efficient and don't require to be changed so very often.
With its low noise operation of this chest freezer, it operates almost unnoticed in your home or restaurant. It allows you to enjoy the high-quality performance without a noisy background.
You can get this Chest Freezer for N187,550 at Zit Electronics Online Store today.
Nexus 197 Litres Chest Freezer NX-265EF Wine-Red.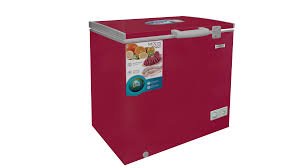 This freezer is important for all homes as it caters to the right standard of quality, durability, and utility. You are sure of the best performance one should get from a freezer. It is very durable and you will get the service your money paid for.
The Nexus NX-265EF Chest Freezer features removable storage baskets and an easy-to-clean design for extra convenience. It is highly energy-efficient. It also comes with an adjustable thermostat which makes it possible to regulate its operation.
The 197-litre capacity freezer is powered by a high-efficiency compressor that ensures fast freezing. A useful feature that comes with this Chest freezer is the Fast Freeze function. This will lock in the flavors and goodness of fresh groceries so all your fruits and veggies will stay fresher, for longer.
This Nexus chest freezer also features a convenient lock and key function that helps to prevent curious fingers from getting trapped by a falling lid. If you have young children in your home, this is a very useful feature to look out for in a chest freezer.
It comes in a sophisticated Wine Red finish that adds so much beauty to your kitchen. And for N121,000 you can get this chest freezer.
See here for more information.
SCANFROST CHEST FREEZER SFL411X.
Scanfrost have a very good reputation when it comes to what they churn out as well, they deal in cookers, microwave ovens, refrigerators, air conditioners, washing machines too and their customers have always had good words to describe them and experiences.
This chest freezer has extreme cooling facilities. It is a very portable yet efficient freezer. It is the appropriate assistance to store smaller foodstuff which will minimize the cost of buying them constantly. The body of this freezer has been designed in such a way that it does not rust.
The Scanfrost Chest Freezer SFL411X comes designed in a 4-way cooling, with a supercooling compressor to help cool your drinks beverages and perishables faster for longer. It is large enough to act as a backup to your main fridge to ensure you never run out of food, and they are particularly good for storing large bags of ice.
The Scanfrost chest freezer has a couple of removable storage baskets for proper organization. They are easy to lift out for cleaning or just to make a little more space for tall items. This model gets an extra point for flexibility. It comes in an Inox finish that is used to beautify the freezer and complement the décor of its environment.
This freezer comes in a moderate size thereby not consuming too much space and disrupting the décor and arrangement of where it is placed. It is also well insulated so you won't get those occasional shocks when touching the body or the edges
With N275,000 you can get this amazing chest freezer, on Zit.ng.
See here for more information.
Hisense Chest Freezer - 250 Litres (FRZ FC 340SH).
This Chest Freezer is a functional and essential product from the fine selection of varied high-quality freezers by Hisense. It comes with a design that meets the demand for style and practicality for a long-lasting and efficient use.
This Hisense chest freezer has low energy consumption, saving energy, and cost. Its super freezing function allows it to freeze quickly taking you through your day with pleasure. It also is equipped with an internal light bulb that allows you to pick up food items easily without the stress of searching for long.
It features an indicator light that reassures you that power is supplied to the freezer and that all your ice cream is safe and sound. It uses the fast freeze function to rapidly lower the temperature in the freezer. This is to ensure your food is frozen quickly. It is particularly useful when freezing a large amounts of food.
The freezer provides adequate storage space of 250liters, for lots of items to be stored as it is built to enable you to store large quantities of perishable and non-perishable items. It has mechanical temperature control and an adjustable thermostat for increasing or reducing the temperature of the freezer.
For those that love the environment and always want it safe, you would be glad to know that this freezer is also 100% HFC and FCKW free, meaning that it uses eco-friendly refrigerants that are both safe for the environment and highly energy efficient.
This Hisense Freezer has a tropicalized system design with a multi-airflow feature that gives balanced cooling throughout the freezer and it is so easy to access your stored food when you take your time in arranging it. You can enjoy all these benefits and even more with N103,500.
See here for more information.
Conclusion.
Chest freezers are literal lifesavers in our homes today. They take up minimal space and provide yet another tabletop surface which can be utilized in any home or restaurant. They could be stored alongside a tabletop surface to extend the utilization space. You can think about chest freezers as your medium to long term freezing buddy.
They are much more energy-efficient, that is why there's a lot of individuals that choose them and that is why you should choose one today too. No matter your reason, chest freezers are a wise investment for anyone looking to add storage space for their food.
Apart from all these, Chest freezers are very affordable and would last for over 10-15years when properly maintained. They are one of the most essential home appliances, especially in areas with constant power outages. You can't go wrong with the chest freezers listed above.
And if you want more affordable but quality options, then check out the Zit Electronics online store for more options.