Sumec Firman Generator Review: Reasons Why You Should Buy a Sumec Firman Generator.
Air conditioner, Air conditioner maintenance, blenders, clean air, Cooker with Inbuilt Oven, Freezer, Gas cooker, Generator maintainence, Generators, Haier Thermocool, healthy living, Hisense, home theaters, Inverter, inverter battery, LG, Lutian, MAXI, MAXI TVS, microwave oven, Nexus, okayama, okayama generators, OLED, OLED TVs, Oraimo, Oraimo Audio accessories, Oraimo Freepods and Air bud, Panasonic, polystar, QLED, QLED TVs, QUHD TV, Refrigerator, ROKU TV, sandwich maker toaster, Skyrun, skyrun freezers, Smart TVs, soccer power, solar, Sound system, Standing Cookers, Table top cooker, TCL, TCL TVS, Television, washers, water dispenser

13 Jan, 2021
The first question to ask yourself is, "Why do you even need a Generator?" 
To a typical Nigerian, the answer to that question is, "I need a generator because I live in Nigeria".
My fellows Nigerians would have gotten the gist. Hahahaha...
Generators are the best source of alternative power supply, they offer us reliable and constant power supply and they are widely used during power outages. They have so many other applications too, for example, people buy generators to power their RVs for off-grid living, they are used at construction sites as well.
Generators are especially popular among Nigerians due to the erratic power supply problem that has been plaguing the country for decades. They are also popular due to their affordability, reliability, low maintenance cost, and varied capacities.
With so many Generator brands out there, I am sure you are wondering about which brand offers the best generator. There are so many good Generator brands in the Nigerian market but one that truly standouts is SUMEC FIRMAN, commonly known as FIRMAN.
BRIEF HISTORY.
Firman is a Chinese Company that makes portable power generators. They rank as the 3rd best generator brand in Nigeria. Firman is one of those companies in China that offer high-quality generators at a competitive price. They produce generators with power capacities from 0.9KVA to 9KVA, and different fuel sources ranging from petrol to diesel fuel.
FIRMAN is a generating equipment brand under the SUMEC Group. SUMEC Group was founded in 1978 and specializes in trade and service, engineering contracting, and investment development. In 2001, the FIRMAN brand was formally established and 6 years later, SUMEC FIRMAN generator sets ranked first among brands of exported portable Gasoline Generator in China.
In 2010, FIRMAN performed the exclusive agent or oligopoly distribution system and established long-term strategic partnerships with some world-leading distributors in the generator industry. FIRMAN products were recommended by PUNCH, the most authoritative business newspaper in Nigeria.
Sumec Firman Nigeria participated in Lagos International Trade Exhibition a few years ago. This is the most important large exhibition in Africa and FIRMAN participated as a mainstream brand manufacturer. FIRMAN products have an extremely high market share in Southeast Asia and Africa, where the market share in the core sales area exceeds 30%.
The brand image has been deeply rooted in local users' hearts. The Sumec Firman Company & Brand is committed to creating stable, highly-efficient, and clean generating equipment and integrated power solution for customers. And they are committed to helping customers obtain reliable power supply, reduce energy consumption, and save operation and maintenance (O&M) costs.
Why Choose FIRMAN?
The first thing that would draw you to SUMEC FIRMAN generators is the reasonable price. SUMEC FIRMAN generators are a popular low-cost alternative to big expensive brands. Apart from that, the company adheres to strict quality control measures from regulators in China and the US. That means, their products are legit.
SUMEC FIRMAN generator sets ranked first for six consecutive years among brands of exported portable Gasoline Generator in China. They make portable and inverter generators along with more powerful units and dual fuel options as well.
Though a relatively new company in the power generation industry, the Firman brand offers excellent quality generators at an affordable price. And though a Chinese company, its brand name goes beyond the mainstream perception of Chinese products. The FIRMAN company makes one of the best generators in the market.
The Firman company recently formed a partnership with other companies like Kohler. This is an American Company that gave them access to a wealth of experience in generators, gas, and diesel engines. That's why their sale of generators has exceeded 10 million units.
Choosing Your SUMEC FIRMAN Generator.
There are so many variations of the SUMEC FIRMAN generator. And to make the buying process easier for you, I would be mentioning some basic aspects of these machines (Generators). You have to learn to customize your selection based on these basic aspects.
Types of Generators.
There are two basic types to choose from, the conventional and inverter. The one you would choose would depend on where you want to use it and what kind of load you expect it to take. Inverter generators are smaller in size than conventional ones. They are perfect for people that prefer a portable generator.
Inverters are better when you need to use it on the road, for example, in campsites and temporary workstations. Whereas conventional ones are better for construction sites, big office or apartment buildings, and such other permanent establishments.
* Power Output.
You have to figure out powerful the generator needs to be to support all the different appliances that will be running on it. You should get a generator with a higher power capacity, at least 20% more power than is your actual requirement. This way you can always be sure that the generator would serve its purpose very well.
* Fuel Tank Capacity and Run-time.
The fuel capacity will be mentioned in the features of the generator, along with the run time. The generator run time determines how long the generator can run continuously. Look at the run time to decide whether the particular generator will be adequate for your necessity.
If you want to run your generator for long periods at a stretch, you need to get a machine that has a large fuel tank. A larger fuel tank automatically means longer run time.
*Fuel Type.
The majority of Sumec Firman generators are gasoline and liquid propane-powered. Those that run on liquid propane are considered cheaper to maintain than their gasoline-powered counterparts.
* Safety Features.
Check for some particular safety adjustments like a low-oil shut off system and an automatic shut off system. Low-oil shut off is necessary to stop the machine when the oil tank is almost empty. It will save the engine from getting jammed and burning out due to a lack of lubrication.
* Starting Method.
Sumec Firman generators offer very differently starting methods. Some have electric starters, while others have remote wireless or recoil starters. Some units come with one starting method, while others come with all three mechanisms. You can also find generators with both an electric and recoil start.
The wireless remote starter is a recent innovation that is very much welcome today. This starting method makes it possible for you to start your generator from the comfort of your bedroom. Recoil starts, on the other hand, are getting outdated and are no longer many people's favorite.
Here are Our Top 4 Picks from the FIRMAN Brand.
1). Sumec Firman 6.5Kva Key Starter Generator - FPG 8800E2.
Firman FPG 8800E2 is a solid portable generator suitable for your home or medium-sized businesses. It provides 6500 starting watts and 6000 running watts of power. Depending on the load the generator can run for up to 14 hours, after loading its 25L Fuel tank to the full. This time is bound to significantly shorter if you run the generator at a 100% load.
Firman FPG 8800E2 has got a simple and user-friendly design. It has the standard set of 220V AC outlets and a basic interface including the low oil level indicator. Compared to other engine types, this one requires lower maintenance, provides higher performance, and lasts longer.
One of the best features allied with the engine is the built-in AVR, overload protection. With a noise level of 72dB at 7 meters, you get a enjoy a low noise operation.
This generator offers you two different starting methods, either a key start or recoil start. It is a must-have for homes and business owners.
It goes for N216,000 on Zit Electronics Sore.
2). Sumec Firman 4.5Kva Key Starter Generator with Timer - AC6000E2.
This FIRMAN generator is a petrol-powered generator with a relatively large tank capacity of 15 liters. It is fuel-efficient, consuming less fuel to keep it running for as long as 10 hours and above nonstop in a full tank. The generator has a starting capacity of 4.5Kva and a running capacity of 3.6Kva which makes it stand out in terms of power ratings.
With the 4.5Kva AC6000E2 generator, you can conveniently power a whole lot of home electrical appliances such as air conditioners, pumping machines, freezers, fridges, televisions, microwaves, and a whole lot of other homes, office and outdoor appliances.
The Firman 4.5Kva AC6000E2 generator is no doubt a durable and convenient generator with a key starter and manual recoil option to start up or turn on. It also comes with a timer to regulate its operational time to automatically go off when the time is over.
And guess what, you can get this generator for less than N200,000 on Zit Electronics Store.
3). Sumec Firman Generator Set Spg 2500.
This is a very portable generator that offers you great benefits. It has a compact tubular roll cage frame design, built for many years to come. It only features a manual start system (recoil start). It delivers produces 2200 starting watts and 2000 running watts. It is equipped with a low-oil shutoff that stops the engine when the oil reaches its lower levels.
It has an 18Liters fuel tank that gives up to 17 hours of runtime at half load. It is a lightweight generator with only 40kg of weight that makes it easy to move around. You also get to enjoy a silent operation with this generator, with a noise level of 68dB at a 7-meter distance.
The generator costs less than N100,000, which is a very reasonable price for all it has to offer.
4). Sumec Firman 2.9Kva Key Starter Generator with Remote Control – ECO3990ESR.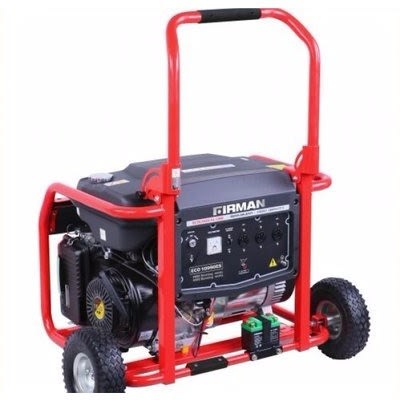 The FIRMAN ECO3990ESR is an eco-friendly, low noise, low fuel consumption generator with an impressive operation time of about 12 hours on a full fuel tank. It features two tires for easy mobility from place to place and a 12V long-lasting battery for the key starting function.
Its sturdy design structure is built to international standard, anti-rust and water-resistant coated metals make it suitable for all weather conditions. The Firman ECO3990ES generator is designed with a separate 0.5L oil compartment and an oil alert system that turns off the generator when the oil level is low.
It comes with 100% full copper which is ideal for powering most of your home, office, and outdoor appliances like freezers, fridges, pumping machines, 1hp air conditioner, and a host of other appliances. This generator also features the remote control starter that makes it so easy to start your generator from the comfort of your room.
You can get this generator for less than N150,000 on Zit.ng.
Here are some answers to those burning questions that you have about SUMEC FIRMAN Generators.
If you are worried about big FIRMAN generators are safe for the environment, I am here to tell you that they are. Rach of the generators that Firman makes has been certified to be safe by the Air Resources Board in California. They are safe and clean for the environment.
Are you concerned about water getting into the generator?
Well, no need to worry, because SUMEC FIRMAN generators are all waterproof. You can safely position them near swimming pools or other water-prone areas.
If you are wondering whether you need to call a guy for attaching and detaching the wheel kit. You don't need to as instructions will be provided in a manual guide inside the package. By following instructions, you will be able to do it all by yourself.
Conclusion.
You should understand that like any product, Firman is not perfect. Customers report challenges in faulty wiring and mechanical problems. In other to prevent all these issues, you should be ready to use the product according to the manufacturer's specifications.
That being said, if you are looking for a great ideal, you can't go wrong with a Firman generator. The generators are touted for their excellent values among buyers.
Are you looking for affordable, uninterrupted backup power for your home or office, then get the perfect combination of top performance and low pricing Generator? 
All this can be made possible with the use of the Sumec Firman Generator.
Sumec Firman generator come at the best prices you can ever think of. Get it at amazing prices when you buy on Zit Electronics Store.
Sumec Firman Generator is available in different sizes and capacities on Zit Electronic Online Store at the best price in Nigeria.
Conquer the fear of unstable power supply before the lights go out with this amazing piece of technology.