Super Amazing Refrigerator Features to look out for in the 21st Century.
Air conditioner, Air conditioner maintenance, blenders, clean air, Cooker with Inbuilt Oven, Freezer, Gas cooker, Generator maintainence, Generators, Haier Thermocool, healthy living, Hisense, home theaters, Inverter, inverter battery, LG, Lutian, MAXI, MAXI TVS, microwave oven, Nexus, okayama, okayama generators, OLED, OLED TVs, Oraimo, Oraimo Audio accessories, Oraimo Freepods and Air bud, Panasonic, polystar, QLED, QLED TVs, QUHD TV, Refrigerator, ROKU TV, sandwich maker toaster, Skyrun, skyrun freezers, Smart TVs, soccer power, solar, Sound system, Standing Cookers, Table top cooker, TCL, TCL TVS, Television, washers, water dispenser

13 Jan, 2021
A refrigerator is a machine for keeping things cold. It is sometimes called a fridge or an icebox. It is normally maintained at 4-5 degrees Celsius for household use. People put food and drinks in it, to keep those items cold or good (unspoiled) for a longer time.
These days, refrigerators do so much more than just keeping our food fresh, it is no longer just about keeping your perishables fresh. The field of food storage is one that has evolved quite a bit with advances in technology allowing for very many refrigerating options. It's imperative to understand all these technological advancements before making a decision.
While it may seem overwhelming and you might think to yourself,'isn't a fridge just a fridge?' today's new refrigeration options will help you in life. No joke. Functions that were merely extras not so long ago have become necessities when buying a refrigerator.
These innovations give consumers more choice, especially now that they're trickling down into more affordable models.
Cool new features are abundant in refrigerators that deserve your attention-- especially if you are considering buying a new fridge now. From speed chilling to giant touch screens, manufacturers are creating both practical and bold new features to give their refrigerators an edge in the appliance market.
With a variety of storage solutions, spaces and places for keeping food fresher longer, and so much more. Manufacturers have made sure that there is a refrigerator option for every home and lifestyle. So, what are the top features to watch out for when choosing this kitchen appliance?
We would be learning about them in this post, their functions, benefits, and how to use them. 
Here is a look at the best refrigerator features and the products they are in.
Refrigerators Drawers.
For every need, today's fridges have the solutions. Crispers for fruits and veggies and deli drawers are just the start of your options. Traditional Refrigerators usually come with Crispers. The crisper drawer is a compartment located within a refrigerator designed to prolong the freshness of stored produce.
Nowadays, with the advancement in technology, drawers in refrigerators do a whole lot more. You can stretch your grocery money by placing your fruits and veggies in the correct drawers in your refrigerator. Most Refrigerators today featurehumidity crisper drawers.
Some of these humidity drawers have an adjustable control that lets you toggle between low and high. The general rule is to store fruit in low humidity and vegetables in high humidity. Exceptions to the rule include citrus, strawberries, and raspberries, which keep best in a high humid setting. Doing this would extend the food's freshness.
There's also theChill drawerin some Refrigerators. The Chill drawer doesn't freezer food, it is used for storing fresh meat and fish for short periods instead. You mostly see this feature in Samsung refrigerators. Some refrigerators come with aFresh drawer. The fresh drawer keeps foods at the lowest temperatures possible without freezing them.
Bottom Freezer Refrigeratorsoften feature abottom drawer freezersection for easy access to your frozen food. With full-width access drawers, you get sufficient space to keep trays of food, which is ideal when you have guests. Some refrigerators havetransparent drawersthat let you see the contents without having to open everything.
Refrigerator Shelves.
For shelving options, there is so much to consider, it can be dizzying just thinking about it. Adjustable shelving, wire shelving, glass shelving, and retractable shelving all offer unique storage solutions for your refrigerator.
Some shelves slide out, especially seen inSamsung Refrigeratorsagain and soLG Refrigeratorstoo. These shelves are built on rolling hinges and pull out, so you can efficiently organize and easily access your food items. It also allows you to easily see exactly what you have stored in the back.
Adjustable shelves provide you with several benefits. They give flexibility in storage and they are easy to clean. The shelves in the fresh food section are easy to handle, remove, and adjust which provides useful storage space. One of the greatest shelving options for today's refrigerators is retractable shelving.
These refrigerator shelves can retract into the refrigerator space allowing for taller items to fit nicely is a game-changer for anyone who regularly entertains. Shelves can also be spill-proof. These have lips at the end to ensure that spillages don't get to the bottom parts. If your fridge holds a lot of liquids like milk and juice, then these would be ideal.
Water Dispenser and Ice Makers.
Water and ice dispensers are found mostly on the side by side models. A classic top and bottom fridge freezer rarely have a dispenser.Water dispenser Refrigeratorsare convenient, and one of the most significant benefits is that they filter your water.
Drinking filtered water prevents you from consuming contaminants, such as lead, that may exist in tap water. They can also remove chemicals like pesticides and chlorine, which can affect the taste and smell.
These Water/ Ice dispensers provide you with cold water or ice cubes without opening the fridge. You can simply press your glass against an inbuilt lever to dispense cold water or ice.
Instead of having the conventional ice trays inside the refrigerator, these dispensers are outside, meaning they maximize space. Also, you don't have to keep opening the refrigerator every time you need ice or keep refilling it with water, which most people forget.
Having this inbuilt water/ Ice dispenser helps to save a lot of purchasing cost and also space as everything comes in one refrigerator unit.
Door Locks and Alarms.
Another door feature that can sway your purchase decision is safety, especially for a home with toddlers and young children. A refrigerator is very secure and safe for eatables and every perishable item that can be stored in a cool place. As secure as it is, it attracts the same amount of danger just like every sharp object or random object to your child.
Samsung refrigerators have a few different lock functions, depending on what model you have. These include Control Lock, Child Lock, and Dispenser Lock. A lock on the door means you don't have to fret over the young ones eating ice cream without permissions or spilling drinks in the fridge.
Some Refrigerators have alarm systems that set off when the doors have been open for some time. You can tell when a child is playing with the fridge or if the door is left open. Such an alarm allows the conservation of energy because leaving the door open reduces the internal temperatures.
Besides from these technologically advanced door locks and alarms, most Refrigerators come with the typical door lock and a key to safely secure their contents. This type of door lock is especially seen in top-freezer refrigerators. So even if you can't afford the high-end types, this type is still very much available and affordable for you.
Convertible Refrigerators.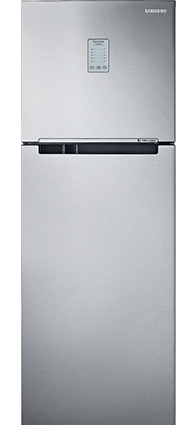 Convertible Refrigerators are multi-purpose and can function as a refrigerator or a freezer. With some models, the entire unit changes from one to the other and back again, as per the user demand. Convertible refrigerators are loved for their impressive flexibility.
Some top-freezer and French-door refrigerators, primarily from Samsung, are now Flexi-fridges, meaning they offer convertible compartments that you can change from freezer to refrigerator and back again. You can have this appliance to store extra drinks in the summer or to hold food platters and catering trays.
Later on, switch the unit or convertible drawer over to freezer mode, and you can stock it with frozen fruits and vegetables and extra meats to take you through winter. These refrigerators give consumers extra refrigerator space for party platters and produce with the flick of a switch.
This convertible technology is incredibly useful if you are constantly running out of space in your refrigerator. Again, you mostly see this feature in Samsung and LG Refrigerators.
Quick Freeze.
Freezing your favorite foods is a convenient way to lock in freshness, flavor, and nutrients. You can also save money by freezing leftovers or buying in bulk. Fast or quick freeze functions are designed to lock in vitamins and nutrients more effectively, so you can be sure the fresh food you freeze will retain its goodness.
The quick freeze setting is particularly useful when you want to freeze large amounts of fresh food in one go. The quick freeze switch gives a boost of cooling power to freeze fresh food to safe temperatures quickly. You switch it on when you put a lot of fresh food into your refrigerator at once.
Fast freezing also prevents the texture of some food like bread from changing too much. Most Refrigerators today feature the Fast/ Quick freeze function, much to our advantage.
LED Touch Displays.
These are LED touch displays on the door of the refrigerator, which is both aesthetically pleasing and highly functional. They often consist of buttons and switches for all the functions in one easy-to-access place. Most control panels are positioned at the top, either on the inside or outside, of the refrigerator.
These control panels allow you to set the temperature and control all the refrigerator's functions at the touch of a button and in one place. Some have electronic thermostat controls, allowing you to raise or lower the temperature at the touch of a button.
Others have lights to let you know which features are switched on, so you know whether it's in fast-freeze mode, for example. There are also warning lights to let you know if you have left the door open or the temperature in the freezer is rising.
Some refrigerator with LED touch display has Wi-Fi capabilities. You not only get to adjust temps but also leave notes, organize the fridge, display photos, access recipes online, stream music, and even get weather updates among many other functions. Refrigerators that come with this feature are usually high end and pretty expensive.
Smart Refrigerators.
Modern refrigerators are being equipped with plenty of smart features. Smartphone integration is one thing, but some models even come with huge displays of their own that showcase things like tasks, calendars, photos, videos, and more. A smart refrigerator can tell you whether its door has been left open, or it's running out of ice.
You can communicate with a smart refrigerator while you are at the grocery store, and found out if you need to get more eggs or milk. A smart refrigerator is one that's connected to the cloud. Very few manufacturers make smart refrigerators today. Only LG and Samsung make smart refrigerators and each has only a couple of models with connected features.
LG is developing a smart refrigerator with a built-in display that will let you order groceries, play music, and more. There's also theLGInstaView Door-in-Door, this refrigerator has a tinted glass panel that, when knocked on twice, becomes transparent, letting you see what's inside. Its Door-in-Door feature then lets you open the outer section so you can grab frequently used items without fully opening the refrigerator.
Most Smart Refrigerators are very expensive and are still going through the refining process. They might not be so necessary for you to get yet, but it's just cool to take note of the amazing technological innovations that are coming into the refrigeration industry.
External condensers.
These condensers are located at the back of the refrigerator. Unlike the internal condensers which are located within the refrigerator, they are located externally and easily accessible In case of repairs. The condenser coils on your refrigerator are where the Freon gets put under pressure, therefore causing them to get warm.
For your Refrigerator to run efficiently these coils need to be able to dissipate the heat. If the coils are covered in Pet Hair or Dust, this will cause the sealed system to overheat. With external condensers, there's a reduced risk of overheating, as they are easily accessible for regular cleaning.
Regular cleaning of your condenser coil is very important in preventing overheating. And so you get to use your Refrigerator efficiently for a very long time.
Conclusion.
When you are shopping for your new Refrigerator you want to make sure you get the best deal. In this post, we have discussed a couple of features that Refrigerators come with. This isn't a definitive list of all Refrigerator Features, just the ones that crop up the most and the ones we often face questions about.
Understanding these features, their benefits, and how they function would go a long way in helping you to choose the perfect Refrigerator for your home. However, It's up to you to decide if they are worth paying for or not.
You can get some of these Refrigerators on Zit Electronic Online Store today at the best price in Nigeria.