The Best Microwave Oven Brand in Nigeria.
Air conditioner, Air conditioner maintenance, blenders, clean air, Cooker with Inbuilt Oven, Freezer, Gas cooker, Generator maintainence, Generators, Haier Thermocool, healthy living, Hisense, home theaters, Inverter, inverter battery, LG, Lutian, MAXI, MAXI TVS, microwave oven, Nexus, okayama, okayama generators, OLED, OLED TVs, Oraimo, Oraimo Audio accessories, Oraimo Freepods and Air bud, Panasonic, polystar, QLED, QLED TVs, QUHD TV, Refrigerator, ROKU TV, sandwich maker toaster, Skyrun, skyrun freezers, Smart TVs, soccer power, solar, Sound system, Standing Cookers, Table top cooker, TCL, TCL TVS, Television, washers, water dispenser

13 Jan, 2021
A microwave oven is a very popular kitchen device that heats and cooks food by the use of microwave radiation in the electromagnetic spectrum in a very quick time and maintains the nutrients in food. Contrary to people's opinions, a microwave oven is a very safe, effective, and highly convenient cooking method.
Microwave ovens are one of the greatest inventions in the last century. It has never been easy to take out ice-cold food and warm it up in a matter of minutes. Cooking with a microwave oven is highly convenient, as it's simple and incredibly fast. Even defrosting meat takes mere minutes, and you are ready to cook your meal.
Microwave ovens can be used for reheating earlier cooked foods and cooking a different variety of foods. They are also useful for rapid heating for slowly prepared cooking items including hot butter, fats, and chocolate. Everyone loves the microwave oven for their convenience, versatility, and relatively low price-point.
They come in a range of forms and sizes: from small, countertop models to large, built-in ones. Unlike built-in or over-the-range microwaves, countertop microwaves do not require any special installation and can easily be moved. Even if you have a small kitchen with limited counter space, there are plenty of great compact options. Also, they are generally more affordable.
The best microwaves offer the most convenience for everything from popping popcorn to thawing frozen foods to making a recipe. Many have either pre-programmed settings or sensors for everything from reheating a slice of pizza to steaming vegetables.
You don't have to figure out for yourself how long to cook your favorite foods or what power level to use. Getting the right microwave oven might be a hectic task, with several brands out there offering you various features and functionalities to choose from. In this post, I would be mentioning the Best Microwave Ovens in Nigeria.
Knowing which brand is best and some of the features they have to offer would help to narrow down your search and make your buying decision easier. Take note that the prices of these microwave ovens vary depending on their features, size, and brand.
However, the convenience these home appliances have to offer is well worth any amount you would pay for them.
Here's goes the Best Microwave oven Brands in Nigeria.
LG Microwave Ovens.
Whether it is a home entertainment product or household appliances, you just expect the name 'LG' to be mentioned. LG has made its mark in the home appliance market, they are known for their consistently excellent, high-quality products. LG is considered one of the leading consumer electronics companies in the world.
LG Microwave ovens allow you to microwave and bake in one appliance. You get to cook small items like frozen foods, biscuits, and cookies easily. They feature innovative designs and unique functions created for home cooks everywhere.
Whether you need to grab a quick bite between work and your workout, defrost dinner ingredients, warm up leftovers or make a midnight snack on the sly, LG microwaves can help you do it all faster.
Some of their wide variety of features include the following:
Easy-Clean Interiors: Designed to resist stains and buildup, the Easy-Clean interior allows you to clean your microwave without harsh chemicals or scrubbing.
Stable ring turntable:this prevents food from falling off. It not only allows for larger storage but it also means that your food is now safe from spilling.
LED Lamps: for easy view of the interiors of the microwave oven during operation. This lamp shines brighter, (estimated to shine three times brighter than the normal lamps) and it lasts longer. It doesn't spoil at all so you are safe and secure with this microwave oven.
Sensor Cooking:Available in most LG microwave ovens, Sensor Cooking uses humidity-sensing technology to determine when food is fully cooked. It will also automatically turn off the microwave to help prevent over-cooking.
Touchpad controls: the touch control makes their microwave oven very easy to control as the functions are properly mapped out on the microwave oven making it possible to become a master in controlling it in just a day.
Convection Cooking: In addition to traditional microwave cooking, when you choose an LG microwave oven with convection technology, it can also serve as a second oven. From defrosting ingredients for dinner to baking or roasting a meal, LG convection microwaves can do it all.
Smart inverter: this unique feature makes LG microwave ovens more awesome. Not only does it provide a faster and better cooking process, but it also makes cooking more efficient. As you can now get an even cooking process that reaches all the areas of your food and this makes it much tastier. It is even estimated to cook better than some stoves.
LG can always boast of clean lines, sleek designs, and innovative technology that will change the way you cook. They have an amazing way of letting you cook your meals in half the usual time or just help heat your go-to snack in a flash.
Whether you've had a long day at the office or are running to an evening event, LG microwave ovens with its great features are engineered for the way you live.
The price range for the LG microwave ovens starts from N25,000. With that money, you get a feature-packed kitchen appliance that would give you the uttermost convenience.
See here, to check out our range of LG microwave ovens.
Hisense Microwave Ovens.
Hisense is a brand that is passionate about technology and making it accessible to the world. They aim to develop technological innovations that improve the lives of others. They are hoping to disrupt the consumer electronics industry, challenge the competition, making sure to give their consumers their money's worth.
They produce a variety of products available in over 130 countries. All across North America, they manufacture and distribute televisions, refrigerators, air conditioners, dehumidifiers, beverage coolers, and freezers. The Hisense microwave is sure to be a great addition to your kitchen appliance. It is reliable, durable, and affordable.
The Innovations in the Hisense microwave technology means that your food will have a more even heating experience through the microwave's Echo Reflee. Hisense Microwave ovens are equipped with the latest technology which is suitable for daily kitchen activities such as cooking, defrost, and reheat your food
Hisense Microwave features a 35minutes time which allows you to conveniently time your cooking. They also feature a very durable, easy to use glass door. The defrost setting allows you to easily defrost your frozen meals. They often come in various large capacities that allow you to warm several meals at a go.
The Microwave has a cooking end signal which notifies you when your meals are ready.
Other notable features include:
Mechanical panel: this feature makes it easier to set cooking and heating temperatures.
5 Power settings: this feature allows you to warm quickly and conveniently, following every step to your recipe, and helps to prevent overcooking of food. Each power level serves a definite purpose and should be used as recommended.
Cooking end signal: that helps to notify you when your meal is done. This makes it possible to pop your food in the microwave and go about some other business.
From their steam technology to dual convection options, you'll find a host of microwave oven features that combine convenience with traditional cooking. They are one of the most affordable options out there, you can get a Hisense Microwave oven for as low as N20,000.
All Hisense Microwaves are built to the highest standards, making any choice you make a smart choice.
See here, for your best Hisense Microwave oven options.
Nexus Microwave Ovens.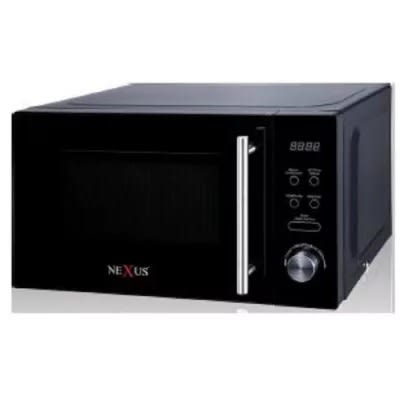 The Nexus Brand is dedicated to filling homes across Nigeria with lifestyle-enhancing household appliances. The difference between a house and a home is the experience and comfort you feel inside and Nexus helps to bridge the gap. They are focused on providing first-rate solutions for your home and surroundings.
Their microwave ovens have been known to challenge the status quo, offering the cooking quality of top-end ovens at the efficient speed of cutting-edge microwave technology. If you love a nutritious home-cooked meal but hate spending time in the kitchen, then you will appreciate the Nexus line of microwaves designed to provide the perfect solution.
They offer a host of benefits, including:
* Saving you time and effort for food preparation.
* Easy and convenient heating of food.
* Effortless cleaning and maintenance.
* Freedom to multitask or relax and wait for your food to be done.
NEXUS Microwave ovens have an amazing capacity to accommodate food, which is cooked in no time. Whether you've had a long day at the office or are running to an evening event, these microwave ovens let your serve hot, delicious meals in half the time.
With Unique features like Convection Technology, ExtendaVent, and Sensor Cook, NEXUS microwaves are engineered for the way you live. They are made with sophisticated technology which ensures that your preservation is done properly and fast while you go about doing other kitchen activities
Some other features include:
Microwave Oven with Grill: that makes it possible to grill your meats, fish, and vegetables and get the chance to enjoy that outdoor grilling taste without owning a standard grill
Removable glass turntable: this rotates the food to cook it uniformly, thereby reducing the effect of the hot and cold spots created by the interference of microwaves.
Auto Defrost setting:that allows you to thaw frozen food more quickly without cooking it.
One noteworthy fact about the Nexus microwave oven is that it can pull up to 1000W of heat energy per time. As much power as the Nexus microwave oven can pull through, it still manages to come with a low voltage starter. Even if the power supply is not at a very high voltage, you would still be able to run your oven.
In terms of price, Nexus always gives you a great deal for their products. Their microwave ovens are fully equipped with the latest technology which is suitable for daily kitchen activities such as cooking, defrost, and reheating your food. They are often very energy efficient as they consume less energy and they are very easy to use.
Haier Thermocool Microwave Ovens.
Haier Thermocool products are built with durable and high-quality materials that give you the assurance of celebrating many anniversaries with whatever product you purchase. The majority of their products come with stainless steel exteriors that are corrosion resistant and can withstand very high temperatures.
They are long-lasting and able to withstand the commotion of a busy kitchen. Their Microwave Ovens are very affordable with prices as low as N26,200 and have high heating capacities and other functionality that helps to boost your productivity in the kitchen.
No longer reserved for just melting butter or defrosting chicken,Haier Thermocool microwaves have come of age. With features that make baking crisp pizzas and roasted vegetables possible, plus technology that keeps dishes from dehydrating while reheating, they are the perfect solution for your busy lifestyle.
Unique features like Power levels, Express cooking, electronic control and so many more make this Microwave Oven stand out among others out there.
Some other notable features include:
Power Levels: that give you greater flexibility and allows you to fine-tune or adapt your recipes. If you are a true foodie and you love to follow your recipe to the letter, then this feature would come in handy for you. They allow you to follow your recipes without overcooking your food.
Electronic Control: this makes the microwave oven much easier to operate. This electronic control allows for easy control of temperature and time, and so ensures that you enjoy accurate cooking.
Grill Function: this is perfect for searing and cooking food without significantly removing its flavor. With this function, you have the option to brown and crisp your microwave meal toppings, grill bacon, or even toast your wheat bread.
Haier Thermocool offers you all the benefits of high-end appliances at Budget-friendly prices. You get superb quality and long-lasting durability at very affordable prices. 
The Haier Thermocool microwave oven is an essential home appliance that will be a beautiful addition to your countertop. They often come in compact sizes and so won't take up much space at all.
See here, to browse through our range of Haier Thermocool microwave ovens.
Conclusion.
Cooking is easier with the help of a good microwave oven. Through its versatility, ease of use, and consistent performance, this gadget offers an efficient way for you to reheat leftovers, defrost meats, toast bread, and roast veggies.
Whether you are after a basic microwave oven or want an array of options with a convection model, you are sure to get the best at Zit Electronic Online Store.