Top 3 Refrigerator Brands in Nigeria. Features, Specs, and Prices.
Air conditioner, Air conditioner maintenance, blenders, clean air, Cooker with Inbuilt Oven, Freezer, Gas cooker, Generator maintainence, Generators, Haier Thermocool, healthy living, Hisense, home theaters, Inverter, inverter battery, LG, Lutian, MAXI, MAXI TVS, microwave oven, Nexus, okayama, okayama generators, OLED, OLED TVs, Oraimo, Oraimo Audio accessories, Oraimo Freepods and Air bud, Panasonic, polystar, QLED, QLED TVs, QUHD TV, Refrigerator, ROKU TV, sandwich maker toaster, Skyrun, skyrun freezers, Smart TVs, soccer power, solar, Sound system, Standing Cookers, Table top cooker, TCL, TCL TVS, Television, washers, water dispenser

14 Jan, 2021
Imagine life without ice cream, fresh fruit, ice-cold beer, or frozen entrees. Imagine having to go to the grocery store every day to make sure your food was fresh. Over the last 150 years or so, refrigeration's great strides offered us ways to preserve and cool food, other substances, and ourselves.
Brief History of Refrigeration.
Ice was harvested and stored in China before the first millennium. Hebrews, Greeks, and Romans placed large amounts of snow into storage pits and covered this cooling agent with insulating material. Need a cool drink? Just mix in melting snow or its resulting water. Or bury your container right into the snow.
No snow?
Do like the ancient Egyptians: fill your earthen jar with boiled water and stick it on your roof, exposing it to the night's cool air. For centuries, people preserved and stored their food especially milk and butter, in cellars, outdoor window boxes, or even underwater in nearby lakes, streams, or wells.
But even these methods could not prevent rapid spoilage, since pasteurization was not yet known and the bacterial infestation was rampant. Before 1830, food preservation used time-tested methods: salting, spicing, smoking, pickling, and drying.
Most recently (just before modern refrigerators became very common) people used iceboxes. These were like refrigerators but instead of being cooled electrically, they were cooled by having actual ice in them. Before that was available, people had cool cellars and some had ice houses where ice could be stored and kept cool for much of the year. These places could keep some food cool.
Refrigerators are important because they keep our food cold. Without them, we wouldn't have ice-cream or smoothies, or even cold, juicy apples. You would have to go to the grocery store daily just for cold food. Without keeping your food cold, your food would rot.
If you have ever been out in the hot sun (which us to be expected in our country) and return to find your drink as cold as ever, you should be in a position to understand the importance of refrigerators.
Refrigerators have greatly transformed our lives. It is now easy to preserve our food, thereby maintaining the supply of our food. It also reduces the risks of food-borne diseases. Life would be so much harder without refrigerators; they bring good things in life. Refrigerators make life so much easier.
Sometime back, refrigerators were only considered to be products for the rich, simply because they were considered to be overly expensive for the average family to afford. These days, you don't have to spend a lot of money to buy a premium refrigerator. Even with a low budget, you can still get a good refrigerator with modern features for your house.
Refrigerators are available in different sizes, styles, brands, and materials, making choosing the best one rather difficult. Gone are the days when the options were limited and specific brands were leading the market. Today, it is a tad difficult to pick a specific brand as the best.
If you are wondering, what is the best fridge to buy in Nigeria? We have decided to make things easier for you. In this post, we would be mentioning the top 3 Refrigerator brands in Nigeria, and all it is you need to know about them.
Refrigerator brands in Nigeria.
HAIER THERMOCOOL REFRIGERATORS
 
Haier Thermocool has over time risen to be among the best home appliance brand in the market. They have grown to be among the commanding brands today and with their refrigerators among the most in-demand in recent times, you can always expect more.
This brand has been around in the Nigerian home appliance market for years, and there is the perfect Haier Thermocool refrigerator price in Nigeria for every budget.
Haier Thermocool refrigerators come in various designs, storage capacities of over and under 200L. They are designed with innovative technologies like frost-free technology and super freeze functions that are sure to give you a true cooling experience.
One advantage of their refrigerators is the fact that you get reliable, affordable prices in addition to low power consumption. Generally, you also get low noise operation, child lock features, and toughened shelves. Also, all the Haier Thermocool refrigerators, come with 1 or more years of warranty.
Their refrigerators are designed in such a way to fit various environments. They are suitable for use in the kitchen, bedroom, offices, and other environments. 
Just like other brands, Haier Thermocool refrigerators are available in different types.
Their single door refrigerators are their most common, they are very energy-efficient refrigerators. They consume very less power, around 30 to 40% less power compared to other types of refrigerators. They are also very compact, space-saving, and very affordable. 
The Haier Thermocool Single Door Fridge | HR 134BS RS SLV goes for just N83,500. 
The Haier Thermocool Single Door Refrigerator-HR-185BS R6 is designed to give you improved food preservation and effortless maintenance. It is space-saving and compact but has a wide storage capacity to accommodate a decent amount of groceries. It features an efficient super freezing function that freezes everything in it so fast that even when there's a blackout it still stays cool enough to keep your food items preserved.
Their uniquely designed two-door refrigerators are gradually becoming more popular in the market. It is easy to understand why Haier Thermocool fridges rank so highly among refrigerators in Nigeria. Their Two-door refrigerators have two major designs; the Top mount refrigerator and the Bottom mount refrigerator.
These two-door refrigerators provide more space; this is their major benefit. They feature other innovative technologies that make them very popular in the market, some of which are:
It offers more space than a single door fridge and due to the two separate doors, you can save energy as you have access to individual sections.
Double-door refrigerators use frost-free technology and so it does not require much effort if you want to clean the inside of the refrigerator, particularly its freezer.
Bigger shelves as well, so you can keep the bigger vessels or beverage bottles. Also, the freezer compartment is usually large compared to a single door and can fit so much of stuff.
The Haier Thermocool Double Door Refrigerator HT 200Lux Silver is an awesome spec to check out. It cost about N172,000 on Zit Electronics Store. It features a Top Freezer design that is absolutely perfect for everyday use. This refrigerator is very energy efficient as it uses 10 to 25 percent less energy than other refrigerators. You get to save a lot of money as a result. 
It features an Enhanced Cooling Effect that helps to preserve food for a longer period. The preserving time is almost twice that of the traditional refrigerators. Its freezer is a reliable high top freezer that offers you high performance in freezing your food items to keep them fresh for days.
Most of Haier Thermocool refrigerators feature LCDs. When you want your food to be optimally fresh all the time, the LCD panel is where you check their current state. Haier Thermocool refrigerators can maintain a very cool steady temperature for a very long time after power is out. So you are very sure that your food items would remain fresh even during a period of a power outage.
Haier Thermocool fridges are not the most expensive in the market; they are not the cheapest either. 
The price range of Haier Thermocool Refrigerators starts from N35,000 and you can even see some for over N500,000.
Haier Thermocool is a brand that boasts of class, efficiency, and durability.
See here for more information on Haier Thermocool Refrigerators.
 
Nexus is another Refrigerator brands in Nigeria that you have to look out for, they have one of the largest Refrigerator product lines in the Nigerian market. This brand offers a wide variety of choices. You can choose Double door, Side by side, and Single door refrigerators. Also, Nexus offers a variety of storage sizes. This ranges from mini-fridges to large fridges for large families.
Nexus Brand supplies a quality line of refrigerators for sale across Nigeria. They are designed to keep all your perishables fresh and your drinks cool, even in the hottest conditions. They come in amazing sleek designs that can fit perfectly into your living area. They also deliver a high cooling performance which makes it possible for you to store different kinds of food for a long period.
Nexus single door refrigerators are perfect for small apartments and dorm rooms. Some of them are even small enough to serve as a bedside refrigerator, they are styled elegantly to add to the beauty of your kitchen and living room.
The NEXUS FRIDGE | NX 125 features mechanical temperature control, a reversible door with a magnetic seal, and a stylish interior light.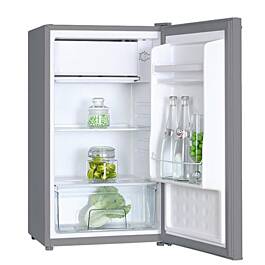 Nexus Side by side Refrigerators is the ones making a bold statement in the Nigerian market. They come with a design that meets the demand for style and practicality, adopting a good defrost system that ensures durability.
The NEXUS REFRIGERATOR 390L | NX-450is a beautiful spec to look out for. It comes in a beautiful shiny black color that gives your kitchen the perfect finish.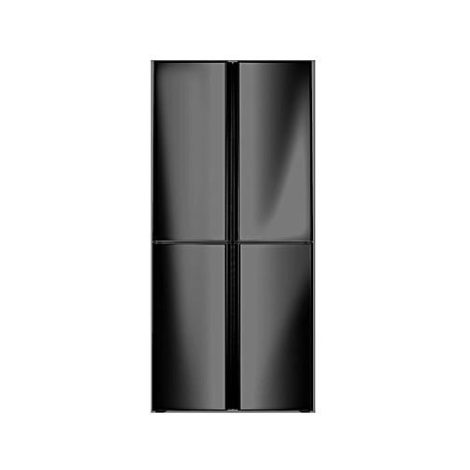 This ubiquitous household appliance that consists of a thermally insulated compartment and a heat pump that transfers heat from the inside of the fridge to its external environment so that the inside of the fridge is cooled to a temperature below the ambient temperature of the room. In order words, you enjoy a super cooling function with this one.
Nexus is quite easy with their pricing; the refrigerator prices were made to accommodate every budget. 
You can get a Nexus refrigerator for as low as N30,000 and you also have high-end refrigerators that close to N500,000.
Whatever your budget is, Nexus has got a refrigerator just for you.
When you buy a Nexus Refrigerator you are getting a cost, energy, and space-saving appliance that is essential in any home!
How well do you know the "Nexus Brand"?
See HERE to learn more about other amazing products from this brand.
 
See here for more information on NEXUS Refrigerators.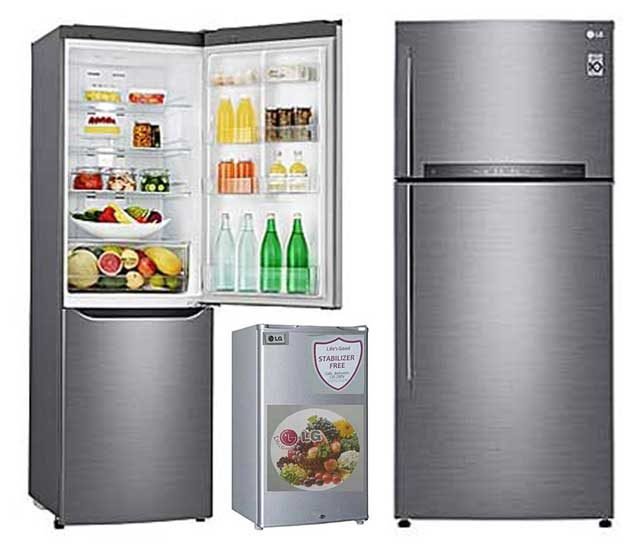 No Top brand list is ever complete without mentioning the LG brand. This brand is known in every market from household appliances to home entertainment, and they are also on the top of every chart. The LG brand has always been consistent in establishing a credible reputation for reliability, quality, and innovation.
The brand is now recognized as a high-quality brand.
LG is a leader in appliances and pairs innovative kitchen technologies with modern designs to provide state-of-the-art refrigerators that look as good as they perform. LG refrigerators are ideal for people who have a more flexible budget and prioritize their refrigerator's design and functionality over its cost.
Here you will find anything, from tiny individual fridges to large refrigerators for the whole family. LG isn't the most affordable refrigerator brand, but it makes up for it with a wide range of solutions for every buyer.
Not only do LG refrigerators have several features to help prevent cold air loss, but they are also ENERGY STAR Certified. With extra storage space in the door and the ice maker not taking up a lot of extra space. It is nice to know how much more you can store inside without spilling or messing the refrigerator.
LG range of refrigerators come in a variety of colors, sizes & styles to match any kitchen decor. Whether you're replacing a kitchen appliance, upgrading your laundry, or furnishing your whole house, LG's stylish & innovative appliances are built to suit your lifestyle.
Their Side by side Refrigerators allows you to store more food and beverages with abundant fridge space. Some models feature a special Slim Indoor Ice Maker that allows you to and easily make and access ice. LG also has Door in door refrigerators with the Cold Saver Panel that significantly reduces cold air loss by keeping it where it matters most, on the inside. This helps to keep your food fresher for longer.
LG Refrigerators features a special fruit and vegetable box cover to keep your fruits and vegetables fresher longer. With other features like Smart Diagnosis, Smart Inverter Compressor, and LG InstaView, it's no surprise that LG is among our top 3 brands.
Staying true to its slogan, LG has always been there to make your life good. Do you want to learn more about LG and its high-quality products?
Do check out this article about the LG Brand.
See here for more information on LG Refrigerators.
In conclusion, one thing you must take note of is that the kitchen is the hub of your home, and at the center of this hub lies the refrigerator. 
It, therefore, stands to reason that the decision to buy a Refrigerator is one that you shouldn't take lightly.
Which refrigerator brand is best for you comes down to personal preference, the types of foods you buy and store in the refrigerator, and your budget. Getting a Refrigerator is the key component of comfortable, stress-free home life.
For very affordable options for these top-notch Refrigerator brands in Nigeria, go to Zit Electronics Store.