Grill in Oven Gas Cooker; Features and Cooking Advantages.
Air conditioner, Air conditioner maintenance, blenders, clean air, Cooker with Inbuilt Oven, Freezer, Gas cooker, Generator maintainence, Generators, Haier Thermocool, healthy living, Hisense, home theaters, Inverter, inverter battery, LG, Lutian, MAXI, MAXI TVS, microwave oven, Nexus, okayama, okayama generators, OLED, OLED TVs, Oraimo, Oraimo Audio accessories, Oraimo Freepods and Air bud, Panasonic, polystar, QLED, QLED TVs, QUHD TV, Refrigerator, ROKU TV, sandwich maker toaster, Skyrun, skyrun freezers, Smart TVs, soccer power, solar, Sound system, Standing Cookers, Table top cooker, TCL, TCL TVS, Television, washers, water dispenser

14 Jan, 2021
Gas cookers became more popular when the oven was integrated into the base and the size was reduced to better fit in with the rest of the kitchen furniture. A Freestanding gas cooker comes with more features than just it's burners. Below is a list of some of those features. 
Pot/ Pan Cast Iron Stand.
They guarantee maximum stability for your pans, with generous spacing between burners. Their straight and uniform design also allow pans to slide smoothly from burner to burner. Most Cast iron stands are stylishly built to not only support your pots and pans but also add a professional touch to your kitchen.
The major benefit of cast iron is that it is extremely durable and tough. It is also a little wider than the hardened enamel pan supports and therefore gives your pots and pans more stability whilst cooking.
High-Grade Stainless Steel Cooktop.
This Stainless steel cooktop brings the look of sleek sophistication to your kitchen. They are also very easy to maintain and clean, you only need water and cleans to wipe it clean. This stain and heat discoloration resistant stainless steel surface will provide you with a reliable cooktop for years to come. This stainless steel cooktop is very hygienic, as it is non-porous, which means it resists lingering germs and bacteria better than wood or plastic surfaces. With a disinfectant cleaner to quickly sanitize the area, you provide yourself with a safe and hygienic space for preparing food.
They are so easy to use and helps to save you the extra cost of buying a new lighter or a new matchbox every time. You also don't have to worry about exhausting the matchsticks or the lighter not working. There is no wastage of fuel in case of auto-ignition as the burner lights up instantly. Auto-ignition is a safer method as compared to the manual method. It doesn't cause gas leaks.
They help you to monitor your food and helps to ensure your food comes out well cooked and not half baked. Once the timer goes off, you know your food is ready. In some models, the oven turns off once the timer goes off. This is a very useful feature, as you know that your food won't get overcooked or burnt because you missed the timer.
Double glazed oven glass door.
This ensures that your oven is well insulated, allowing it to be much more energy-efficient and also it makes it quieter. The double glass oven door is perfect for someone that cooks many dishes every day and the different dishes need to be placed in different cooking environments.
These doors also help to retain more heat inside the oven producing a better cook, which are more energy-efficient. They also leave the outer facing door panel cooler, protecting anyone that touches the door.
Inbuilt Oven with oven lamps.
A gas cooker that comes with an oven offers you increased flexibility and versatility in your cooking styles. You also have increased cooking capacity and productivity in the kitchen. If you are someone that loves to bake and you bake a lot, getting a gas cooker that comes with an oven is your best option.
This inbuilt oven helps to save a lot of space in your kitchen. You also get to make all sorts of food from cakes, to roast pork belly and fish and chips right in your kitchen. Since oven cooking requires little or no oil, you get to cook healthier recipes that are delicious.
Most Ovens come with interior oven lamps, this gives you an excellent view of your food. This will also save you energy, as you won't have to keep opening the door to check on your dishes. This is important because the regular opening of the oven door can reduce the temperature within the oven. We all know that to have perfectly baked goods you need a regular temperature else the food would come out bad. Oven lamps help to ensure the oven's interior temperature remains regular.
Grill in Oven with Turnspit.
Now, this is the cherry on top. Not all Gas cookers feature a Grill in the oven, but those that do make up for a perfect kitchen appliance. There are so many reasons why you should opt for a gas cooker that features a Grill in the oven. With these spectacular models of gas cookers, you can grill chicken wings, lamb chops, or steak for your barbeque party anytime you want.
A good number of freestanding cookers have grills, either in a separate compartment or as part of the oven itself. A good grill will cook food evenly to give you a golden, crispy finish.
Features of a "Grill in oven" Gas Cooker.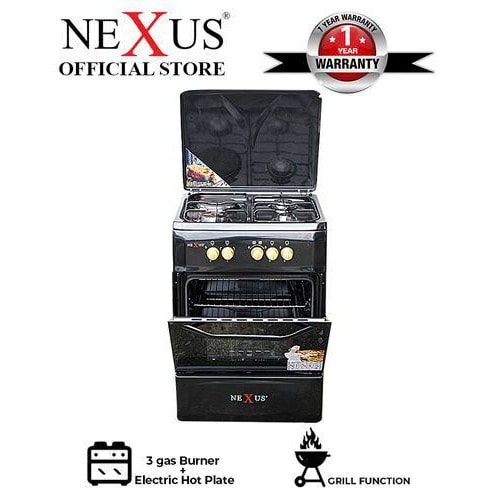 These grills have different cavity sizes, some big enough for you to fit in more food and others come in average sizes that can handle your day to day grilling. There are also some gas models with eye-level grills. This style makes it easier to see how your food is cooking.
Most of these grill features Auto-ignition knobs for lighting the grill, this makes it easier to get the grill started and much safer too. Gas grills give instant flame and heat, so you can get cooking as soon as the grill comes on. Some gas cookers also feature a tilting grill, which can be pulled out and down towards your food. This also makes the grill easier to clean when cool.
Another thing grills feature is a grill grate. Good grates, either coated cast iron or stainless steel helps to maintain steady grilling temperatures or to sear meat on. Stainless steel is more durable and usually the preferred cooking surface.
Grills that are built-in ovens come with fans, the fans help to circulate the hot air in the oven for faster and more even heat distribution. This saves you time and energy. Being an energy-efficient appliance, the grill is kinder on the environment and helps you save money on your electricity bill.
Some grills feature a Turnspit. This is a skewer for holding meat over a fire. This appliance was designed with inspiration from the olden days. The food used to be prepared over an open fire, the meat would be pierced through with a stick and hanged over the fire to cook. The same principle is used for the turnspit.
In the olden days, the meat was manually rotated over the fire for uniform cooking. Today's turnspit is mostly automated and rotate on their own. The grill spit is great for roasting meat in its juices. 
How to Use the Grill?
One thing to note is that you should always keep the oven door closed when using the grill. Unlike stand-alone grill that you can grill in the open. How then do you use your grill to ensure that you enjoy smoky, charred dishes all year long?
1). Adjust the grill grate according to how fast you want the food to cook. Any distance of 10cm to 20cm from the top. Position the food close to the top element for faster cooking and further away for more gentle cooking.
2). Turn on the grill, manually by turning the knob and lighting it with a matchstick or automatically using the auto-ignition knob. Let your oven preheat for about 10 minutes with your grill grate inside it. Unlike the outdoor grill that heats from the bottom, where the heat is coming from the top.
3). With an oven mitt, remove the grill grate and place your seasoned meat. The grill grate has grooves that will let the fat drip down so the meat doesn't cook in it. Place your grill grate back in the oven to cook for about 8-10 minutes, as most dishes cook at that time. To ensure your meat is evenly cooked on both sides, flip it at the 4-5 minute mark.
4). After turning off the oven, place the grill grate on your gas cooker and let the meat sit for about 5-10 minutes. This lets it keep cooking for a few minutes and will help it retain its juices. Afterward, you can cut into your meat and start eating!
Note: Leave the door to your oven slightly ajar. Most ovens will turn off the heating element once it reaches a certain temperature, which would interrupt your cooking cycle. Leaving the door cracked helps keep the hot air flowing the entire cooking time.
How to Use the Turnspit?
This is a bit similar to the grill too. The Turnspit is like a long stick with forks at the edge to hold the food in the place.
* Place the food in the spit and fix it in place with the forks using the screw. Once the food is fixed, you insert the point of the spit in the motor drive hole, which can be found in the back panel of the oven.
* Place the outside edge of the spit on the spit support and unscrew the handle so that you can easily close the oven door. Then, insert the dripping pan at the lowest level, after pouring a little water in.
* Afterwards, follow steps 2,3,4 of the above instruction on how to use the grill.
The difference between the two is the placement of the food. Also with a Turnspit, you don't have to flip the food as it rotates automatically to ensure even cooking on all sides. The other difference here is that the food would have to stay in longer, as they are often bigger cuts of meats, sometimes even whole chicken.
Here, you also leave the door of the oven is then left slightly ajar during the turnspit cooking time. Your food would be evenly browned and very moist. Wait for the food to sit for a few minutes before cutting into it.
Cooking Advantages of the Grill.
Grilling isn't just fun, it can be good for you, too. There are health benefits to cooking your food on the grill versus on the stove. We will go over some of the health benefits below
When you grill,you eat less fat because of the excess drips off the grates. With a normal stove, the fat is reabsorbed by the meat because it has nowhere to go. And because grilled foods have less fat, this would mean that they are also lower in calories and so can help in reducing obesity.
When you grill vegetables, they retain more of their vitamins and minerals.This is especially true with veggies that have low water content. Whether you wrap them in tin foil or just placing on top of your grill, cooking on a grill is nutritionally advantageous than boiling or frying.
Not just vegetables, but also meats retain more of their nutrients when cooked on a grill. It preserves more riboflavin and thiamine. Both of these nutrients play a vital role in a healthy diet, as well as have many health benefits associated with each of them.
Because more nutrients are retained with grilling, it makes the food tastier.The grill will lock in moisture so that you don't need to add unnecessary condiments to get your desired flavor.
When you use the turnspit, the slowly rotating meat promotes "self-basting" because melting fats and juices flow through and over the meat as it cooks. It also ensures even browning and caramelization of the meat proteins.
Now that you know about the grills and how beneficial they are to you. Here is our top grill in oven Gas cookers to choose from, they are reasonably priced and are sure to last for a very long time.
Top 5 Grill in oven Gas Cookers and their prices.
* Nexus Double Oven Electric and Gas Standing Cooker 4 Burners & 2 Hotplates. The price is N 176,000.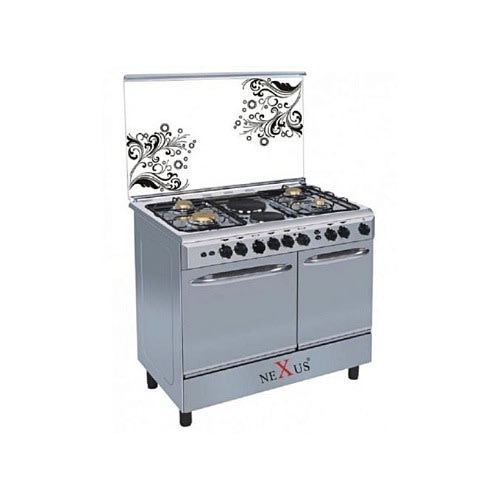 * Maxi 6060 Plus Gas Cooker. The price is N159,800. 
* Nexus Gas Cooker with Oven and Grill 60Cm X 60Cm. Price is N69,600.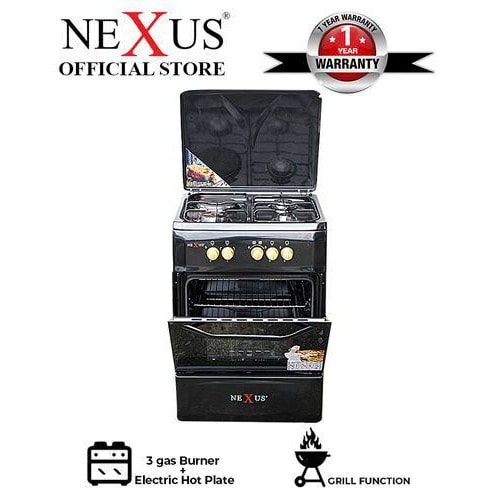 * Polystar 3 Burner 1 Hot Plate, Oven Grill Stainless Gas Cooker.The price is N60,000. 
* Midea 4 Burner Gas Cooker 50*55CM. The price isN50,000. 
Conclusion
Grilling is one of the healthiest and easiest methods of cooking food. They also give you the tastiest foods. This is why you should own a grill in your home. Thanks to technology, you don't behave to get a stand-alone grill anymore. Having a Grill in be Gas cooker provides you with more cooking options at a cheaper price.
Grill in Oven Gas cookers is getting very popular in the Nigerian market. This is because they are very convenient, they enable faster cooking and gives a sense of sophistication to your kitchen.
You can get another of these Gas cookers at the best price in Nigeria on Zit Electronics Store.
Order yours today at Zit Electronics Store and start reaping the benefits of a healthy life.